Irishia Hubbard, MFA candidate in the University of Utah School of Dance, recently embarked on the Ann & Weston Hicks Choreographic Fellow Program at Jacob's Pillow, prestigious dance center in Becket, Massachussetts.

One of only eight selected choreographers from all across the globe, Hubbard traveled to Jacob's Pillow for two weeks of intensive research, experimentation, and exploration in the studio. The choreographers were guided and mentored by Diane McIntyre and Risa Steinberg who provided daily feedback and insights.

The process was different from anything Hubbard had experienced.
"Each of us did something different. Some people came with a piece they wanted to dive deeper into, some of us had themes or research we were investigating, and other people tried to finish a completed work within the timeframe," she explained. "Originally I had the intention to finish a piece but they told me, 'No. That's not what this is about, it's about process.' It was really focused on: see what you come up with every single day, see what happens, see what you are informed by."
"This whole process changed me as a choreographer."
Allowed to bring only two dancers along, Hubbard selected members of the U School of Dance community – fellow graduate student Stephanie Garcia, and recent BFA alum Vivienne Williams.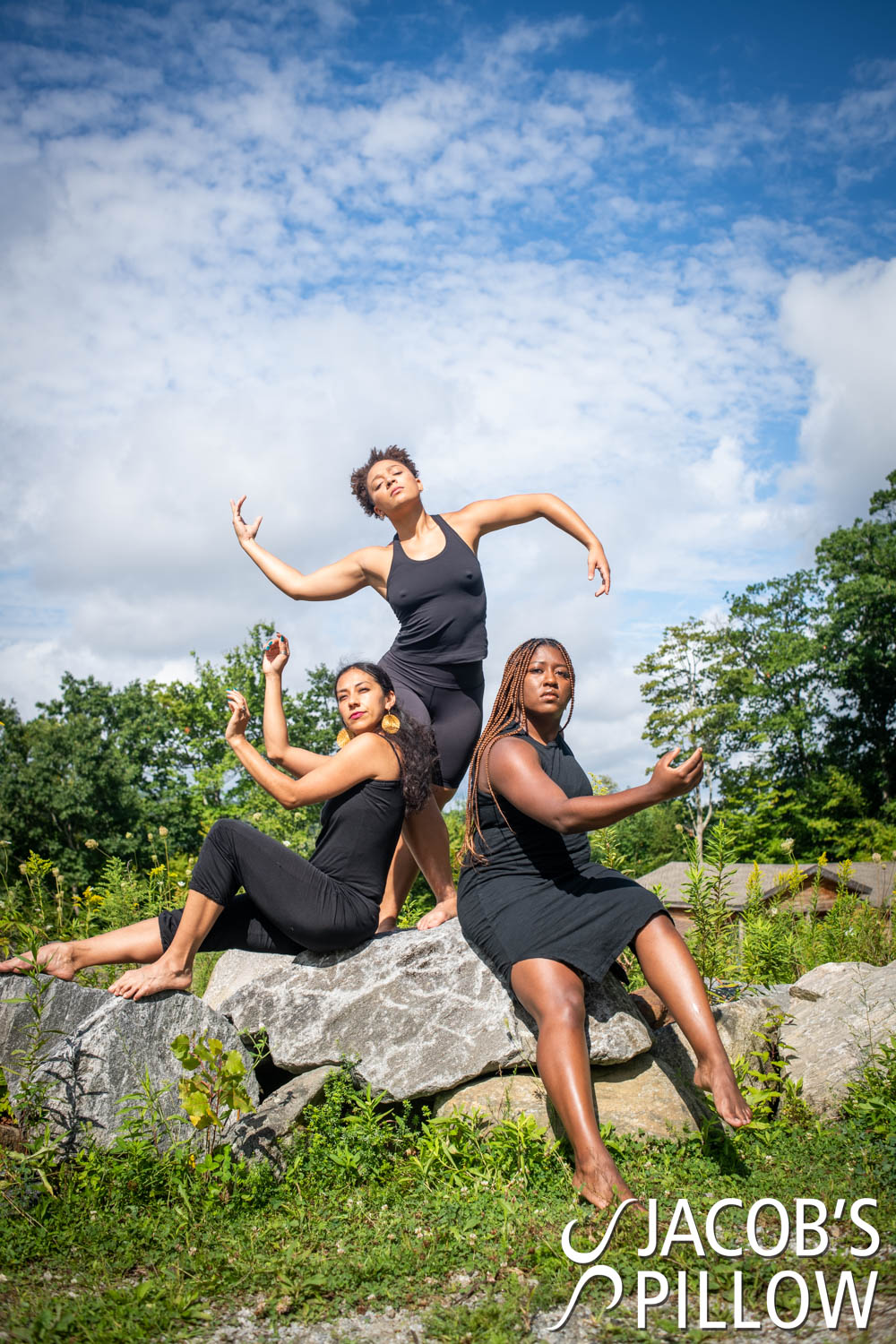 photo Christopher Duggan"None of us have ever worked together collectively and so having that shared experience with two women from the program and my little community was nice because we could all lean on each other. We all decided we were going to dive into it and be open to the process and just see what happens," Hubbard said.

There were back-to-back ten-hour rehearsal days filled with new challenges.

"In the beginning I was just creating material and working on my theme," Hubbard said. "And then I just hit a wall. Risa and Diane came in and they were like, 'Ok, we get that you can create choreography, but how does this inform your intention? You have all these beautiful moments but you don't sit in it, you're just passing through.'"

To break through old habits, Hubbard set up parameters she knew would be uncomfortable.

"One of my tasks was to stay on the floor all day," she remembered. "I normally don't do any floor work. I had to break through walls to see what was on the other side. Out of this process i was able to find more confidence, and realize that the processes I have been in before didn't serve me in the right way. Maybe I do need more time to develop ideas."

During their time, the fellows had access to summer festival performances, talkbacks, and the world-renowned Jacob's Pillow dance archives which include extensive historical footage of legendary choreographers. The program doesn't end as the choreographers depart – Jacob's Pillow matches each fellow with an alumni choreographer of their choosing to continue to mentor them throughout the year. This allows them to connect with a broader community of artists working in the field.

"This whole process changed me as a choreographer," Hubbard said. "To have these two beautiful humans [Diane and Risa] guide me, and be so open to sharing how they work, and really trying to help each choreographer succeed…I appreciated that one-on-one mentorship and structure."