In March 2020, the Natural History Museum of Utah was in the middle of an immersive exhibition, "Nature All Around Us," when the pandemic cut the run short by a few months. One part of the show was a multi-sensory installation entitled "Written on the Wind" by Associate Professor in Sculpture Intermedia in the Department of Art & Art History, Wendy Wischer.
Now, "Nature All Around Us" is not only finding a second life – its reach is deeply expanding. And with it, Wischer's installation.
The modified exhibition is now open at the Science Museum of Minnesota and will run through January of next year. From there, the project will continue a lengthy tour at science and natural history museums nationwide. The Science Museum of Minnesota writes: "We often think of nature as a place untouched by humans, but nature is thriving right under our noses in cities and towns! Filled with immersive environments and hands-on interactives, 'Nature All Around Us' challenges the notion that urban and natural environments are separate and shows the many ways they are linked. We can make our world an even better place in which to live by discovering, celebrating, and conserving the nature we find in our own neighborhoods, all around us."
"Written on the Wind" immerses visitors in nature using sound, projected video, and animation. Traveling through a 24-hour sequence in 24 minutes, the viewer takes a journey through the cycle of moving from light into darkness and darkness into light.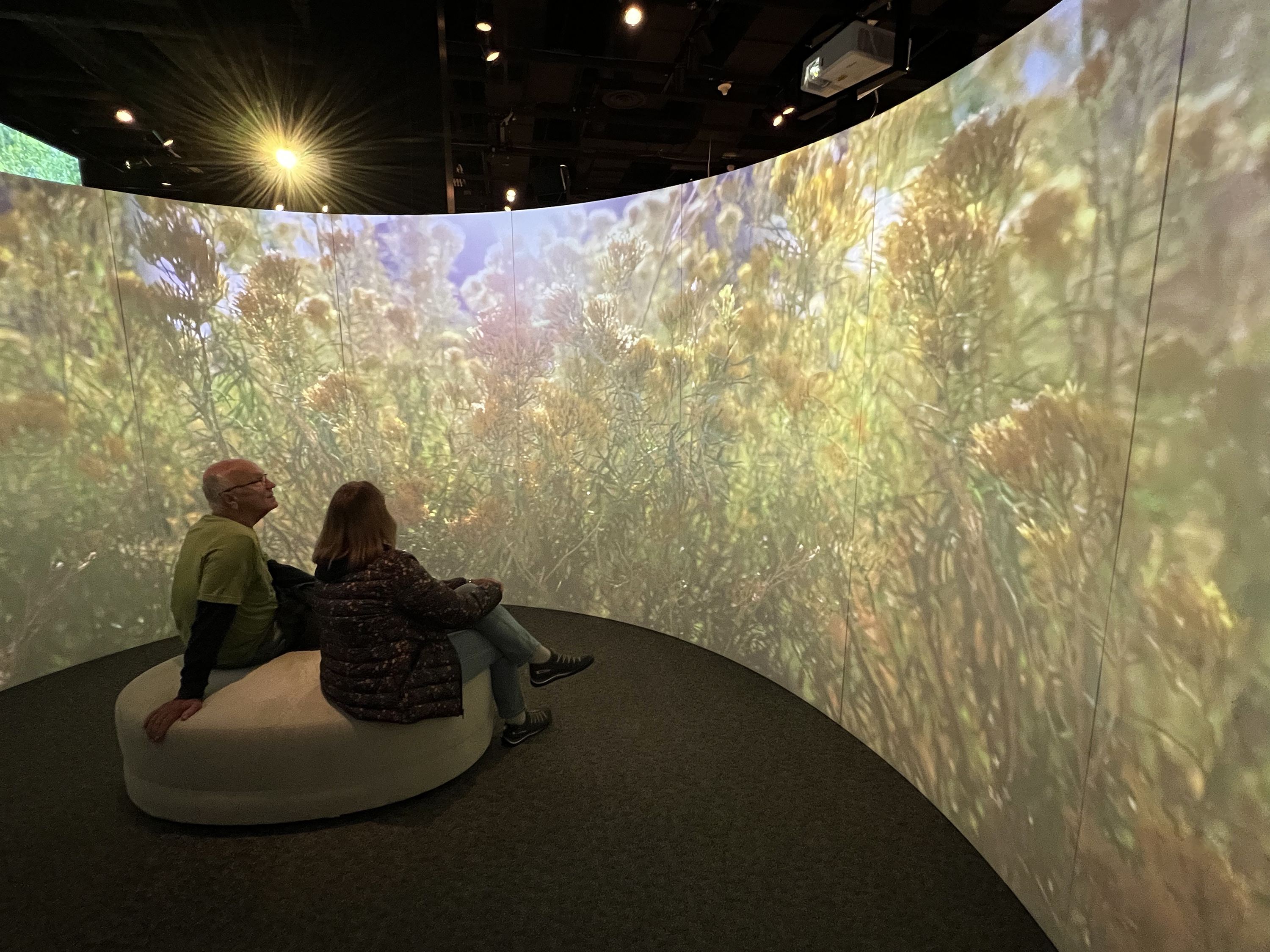 photo Wendy Wischer
"This meditative installation attempts to capture fragments of how nature makes us feel, fragments of the joy and curiosity often felt when experiencing nature and the restorative effects this provides. A place where our stories are 'written on the wind' that circles the planet continuously and creates connective threads that weave a journey both individual and shared," Wischer wrote.
There are many studies that show how the power of being in nature helps us with physical well-being, as well as improving our mental health. Climate change is an opportunity for us to re-evaluate our relationships with the natural world and connecting on an emotional level is a good place to start.