The Babcock Theatre has seen its share of staged combat over the years, but never quite like this.

Opening Friday, February 17th through the 26th, the University of Utah Department of Theatre presents "The Sweet Science of Bruising," written by Joy Wilkinson, and directed by Alexandra Harbold, Co-Founder and Co-Artistic Director of Flying Bobcat Theatrical Laboratory and Assistant Professor with the Department of Theatre.

Inspired by the real history of female boxing in Victorian London, "The Sweet Science of Bruising" follows four very different women in their bid to become Lady Boxing Champion of the World. As they spar and train under the tutelage of an eccentric trainer/promoter, all four women find an unexpected sense of freedom and solidarity in the "sweet science."
Although the stakes for victory soon reach life-changing heights, a different fight awaits each of them in the world outside the ring.
"This show has challenged me to stop denying my gut instinct, and to let my body lead the way."
For actor Dorothy Mayer, this tale is deeply resonant in today's culture, despite taking place in 1869. "The 'Sweet Science' subject matter is near and dear as ever, with the struggles of women within a patriarchal society continuing and evolving today." Mayer said. "How can women support and help each other whilst still pursuing our own agendas? Where do we draw the line? What does working together actually look like?' The Sweet Science of Bruising' grapples with these same questions."
Mayer plays Matty Blackwell, one of the four female boxers, who is anything but a shrinking violet.
"Matty's fiery resilience inspires me again and again to keep pushing through this beautiful beast of a show!" Mayer said. "When she falls, she gets back up; when she's thrown a curve ball, she throws one back. That's the goal."
As is common with challenging roles, this one has taught Mayer quite a bit about acting itself. "I have learned so much about the connection between body and mind through this show, quite ironically as Matty is obsessed with 'Cartesian Duality' –– the body knows things before the mind does. This show has challenged me to stop denying my gut instinct, and to let my body lead the way," she reflected.
U Students should take a break from their rigorous studies and make their way to the theatre to see the show, particularly if they have been waiting for the right moment to use their Arts Pass.
As Mayer described: "This show has it all! Action, relationship, conflict, and change are some of the many elements that make 'The Sweet Science of Bruising' so beautifully human. Students can come for a thrill, and will hopefully recognize a bit of themselves along the way."
"This is the kind of piece that takes a whole community of artists to put up, which feels connected to what the playwright is celebrating," said director Alexandra Harbold. "We've got three different rooms per night going on at the same time in rehearsal: dialects in one room, fight choreography in another, scene work in another. It's about collaboration, working together to make progress, to take something from vision to reality. This idea of pitting people against each other as the ultimate end, where there has to be one winner and everybody else is a loser . . . [Wilkinson] challenges that. It's a different model for victory, and for living."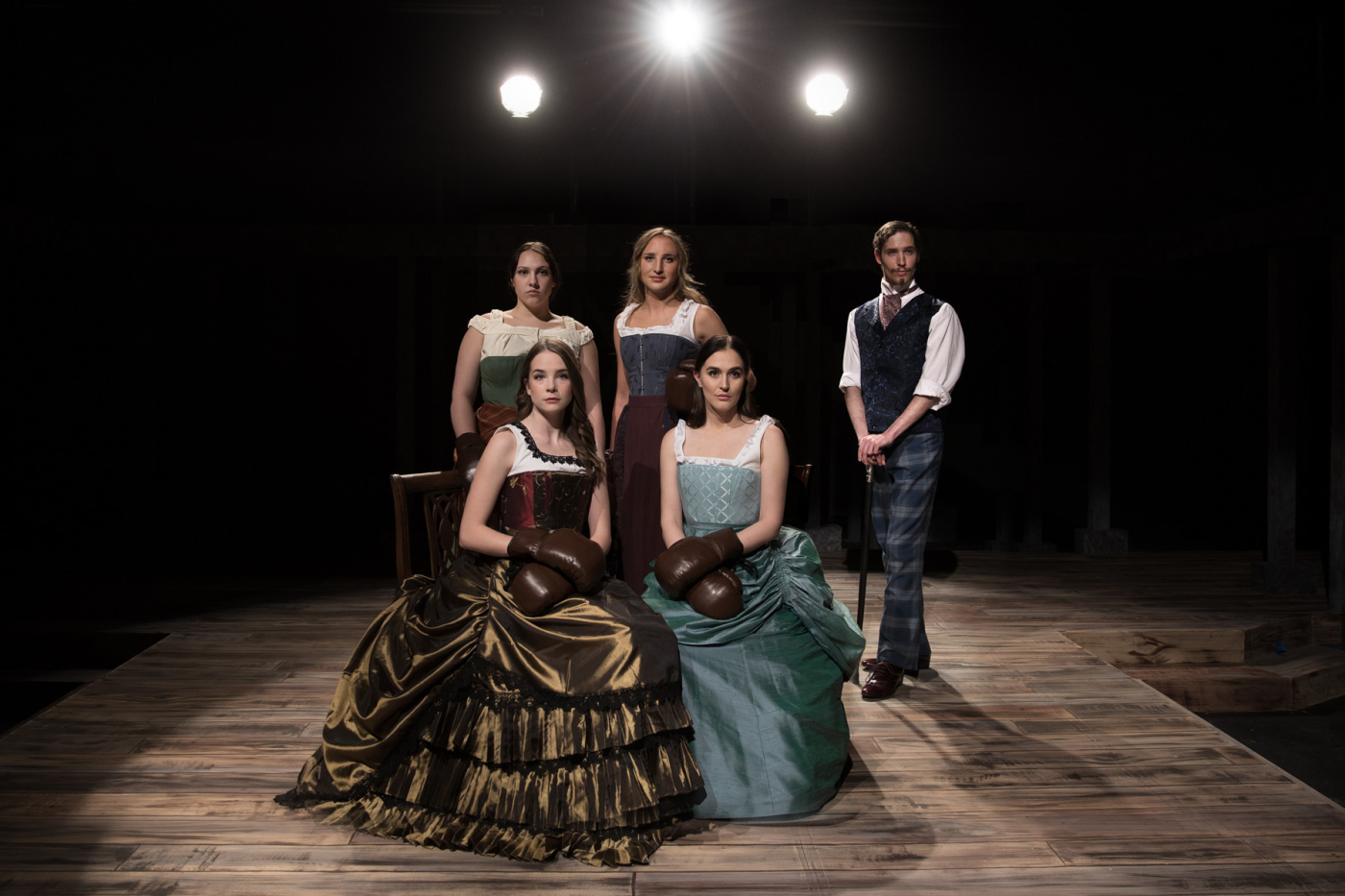 Standing L - R: Taryn McClure (Polly), CoCo Berwald (Violet), Tristian Osborne (Prof. Charlie Sharp). Seated L-R: Dorothy Mayer (Matty), Hannah Ekstrom (Anna) Photo by Meghan Gibson
Principal cast members include Tristian Osborne (Professor Charlie Sharp), CoCo Berwald (Violet Hunter), Hannah Ekstrom (Anna Lamb), Dorothy Mayer (Matty Blackwell), and Taryn McClure (Polly Stokes). Additional cast members include Lina Boyer (Aunt George), Aly Carter (Nancy), Brandon Ernst (Gabriel Lamb), Maggie Goble (Emily), Grayson Kamel (Dr. James Bell), True Leavitt (Referee, Dr. Foster, Ensemble), Luke Morton (Captain Danby, Ensemble), and Michael Tirrell (Paul Stokes). Tessa Jones and Macey J. Shackelford are the principal cast understudies.
Creative team includes Scenic Designer Nikayla Starr Nielson, Costume Designer Mae Hinton-Godfrey, Lighting Designer Meghan Gibson, Sound Designer Summer Stevens, Prop Designer Anna Blaes, Wig and Makeup Designer Samantha Wootten, Fight and Intimacy Director Adriana Lemke, Dramaturg Laurel Morgan, and Choreographer Constance Anderson, with Stage Manager Savannah Gersdorf.


February 17 – 26, 2023
Thursday – Saturday at 7:30 pm
Saturday and Sunday matinees at 2:00 pm
*ASL Interpreted performance and Audience Talkback on Friday, February 24