By Aaron Swenson
On New Year's Eve 1929, American writer Cliff Bradshaw arrives in Germany seeking inspiration and a cheap place to stay. He winds up at the seedy, seductive Kit Kat Klub, where he meets Sally Bowles, a down-on-her-luck British singer. The next day, Sally beguiles and bullies her way into his apartment—and into his life.
Their whirlwind acquaintance soon blossoms into an unconventional partnership; meanwhile, the avant-garde decadence of Berlin is crumbling in the face of a rising totalitarian regime. Despite the danger and uncertainty that creep closer each day, Cliff and Sally cling to their dreams and each other. Tomorrow may belong to someone else, but for tonight, life is beautiful.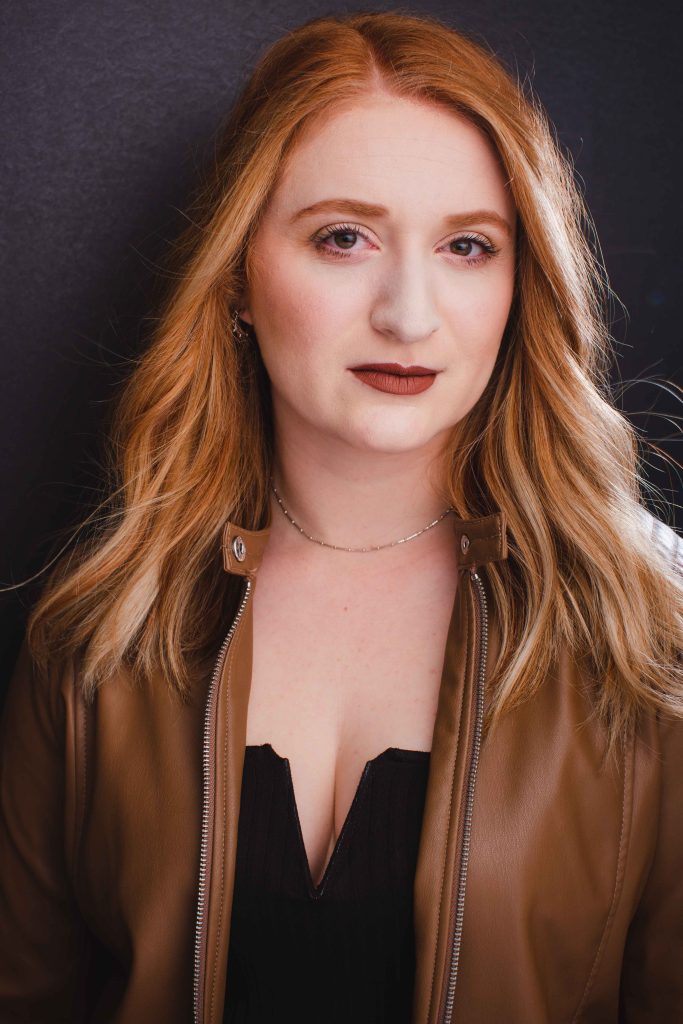 In the decades since it opened on Broadway, "Cabaret" has come to be regarded as a classic in the musical theatre canon. However, the 1966 musical stands apart from its "Golden Age" predecessors. While musicals from the 1940s and 1950s were characterized by predictable plotlines and happy endings, "Cabaret" broke these conventions, presenting a darker, more decadent, and controversial exploration of human nature, and tackling taboo subjects such as sexuality and the politics of pre-World War II Germany.
"Cabaret"'s popularity has led to multiple revivals and revisions, most recently in 1998, when Sam Mendes brought his successful West End production to Broadway. However, although the Department of Theatre's production is based on the latest revision, the impact of the script remains the same. Its effectiveness relies in part on its ability to accurately reflect the biases and events of the time period. Some of the material can be difficult for artists to perform and for audiences to watch—particularly the implications of the Nazi Party's rise to power, which include instances of antisemitic language and behavior.
With this in mind, the Department of Theatre hired cultural specialist Jess Hirsh, who has been providing guidance and support for the cast, creative team and production team of "Cabaret" since last fall. Earlier this month, the department's Aaron Swenson spoke with Hirsh about her work as a cultural specialist.
Q & A with Jess Hirsh
Would you mind introducing yourself and telling us about your role in this production?
My name is Jess Hirsh, and I am the cultural specialist for this production of "Cabaret." My usual job is helming the musical theatre program at the Salt Lake School for the Performing Arts. I have an MFA in acting from the University of North Carolina at Greensboro and a BFA in musical theatre from Youngstown State University.
What does a cultural specialist do?
My main job is to be a human in the space who can speak to the cast from the perspective of the Jewish culture and community. I do not speak for the entire community, but I am here to provide thoughts and insight. Shows like "Cabaret" deal with some extremely difficult themes, and it's important to have all hands on deck.
How did you get into this line of work? Is there an established process/path or training for people who are interested in becoming cultural specialists?
So, first and foremost, I'm a teacher, director and actor. What's interesting is that I've been involved with many productions where being the cultural specialist was something that just sort of happened, by virtue of me almost always being the only Jewish person in the space. Shows like "Fiddler on the Roof" and "The Last Days of Judas Iscariot" are examples of shows where this has occurred. It's not something that I ever specifically sought out to do, but it is something that I am always very happy to do.
If someone belongs to a certain group or culture and wants to become a cultural specialist, my advice would be to read up on plays and musicals that involve that group or culture. If you see a local theater doing that show, reach out and ask if they would be interested in involving you. The worst thing they can say is no—and even if they say no, you're still making the idea of a cultural specialist more prominent in their heads.
When is it a good idea to invite a cultural specialist into the process? Is it ever too late? Too early?
If the script deals with a racial/ethnic/cultural/religious experience that no one on the team belongs to or is a part of, that is a great reason to bring in a cultural specialist. I don't think it's ever too early. I was involved with the process of "Cabaret" starting in November, which is long before rehearsals start. I also don't think it's ever too late; if you're concerned that something in a show is being handled in a way that's insensitive or historically/culturally incorrect, say something!
Are there steps we should take before bringing a cultural specialist into the process?
I think that before you bring a cultural specialist into the process, you should really sit down and be ready for the feedback you hear from them. If there's a moment you love, but the cultural specialist says it's not historically/culturally accurate, you need to be ready to really hear them. Don't hire a someone to check a box. Really involve them and hear them!
How does your work affect or support audience members as well as the folx in the rehearsal room or onstage?
We have a lot of talks about the importance of representation in the media. Seeing yourself represented (truthfully represented!) on stage and screen is life-changing for so many people. I've seen many shows that portray Judaism and often find myself wondering if there was anyone Jewish involved in the dramaturgical end of things. Speaking from "I," my experience as an audience member is greatly improved when I know that someone from the cultures being represented (in the show) is on the team in some way. I think it's incredibly important that word of this work gets out there, because look at where we are now with something like intimacy coordination. Four or five years ago, maybe even one year ago, people would say, no, that's not necessary. We don't need to pay someone to do that.
I'm also here to represent the cast and the production team to let people know we're doing this work, partly just by being involved in this production in an official capacity. And I think with where we are right now culturally, people—especially young people—are very skeptical, and rightly so. When they see a show they might say, "that was great, but was anyone from that community involved in the production?" For lack of better phrasing, I'm not only here to represent and advocate for the culture, but also for the whole team involved with this show.
When I worked on "Caroline, or Change," I played Rose Stopnick Gellman and served as the choreographer for the production. This was one of those situations where I (very happily) was also utilized as a resource for the Jewish topics and themes in the show. The show was being produced in the middle of Youngstown, Ohio, and there is a Jewish population in Youngstown, but not a huge one. We had a local Jewish community center group attend the show, and one of the women during our talkback thanked us for showing a real Jewish family on stage. The nuances of the conversations and relationships made her feel that she was watching a truly authentic Jewish family deal with conflict and loss, and that was not an experience she had in a theater previously.
What if a production already includes cast members or creative/production team members from the groups/communities represented? Does their presence make the work of a cultural specialist unnecessary?
This is a fantastic question. Actors and creative/production team members already have very difficult and specific jobs. As I mentioned earlier, I have often been a resource for the topic of Judaism when I've been an actor in a show, but it's really not a part of the job description when you're an actor, dance captain, assistant stage manager, etc. A show can get into some sticky territory when it's assumed that they're good to go because they have a member of the cast/team that belongs to the group in question. For one thing, many people who belong to racial/ethnic groups that have a deep-rooted history of oppression are extremely tired of being the one in the space who has to fill that role of teaching/explaining/giving.
When I'm working in this capacity, if a member of the cast or team is also a member of the community that I am consulting from, they are always welcome to chime in if they wish for their voice to be heard or if they have something insightful to add. I am here to make sure that they can focus on their other work, and to be the voice for the group if they simply don't wish to be that person!
What's the most rewarding part of the job? The most difficult?
The most rewarding part of this job is getting to work with this incredible team at the U. These students have so many insightful questions and I love being there to help answer them. When you open the space for young actors to be curious and ask questions, they will!
The most difficult part of this job is the fact that this show deals with incredibly challenging themes. The antagonists in this show are not fairytale-istic. They represent real humans who did horrific things to millions of people. This can be a big ask for an actor, and it's part of my job as the to remind them that by playing this character, they are doing their job and servicing the story. Not every role gets laughs and smiles from the audience, and that can be a really difficult part of this industry to navigate.
Does the fact that "Cabaret" is a musical affect your approach to the work?
Musicals are my bread and butter. I can trace my interest in musical theater back to a production of "Fiddler on the Roof" I saw at Cain Park in Cleveland in 2003. A whole three-hour show about Jewish girls? I said, "Sign me up."
"Cabaret" is a show that I've been in love with for a very long time, and I believe that it is one of the more perfectly written musicals out there (if such a thing really exists). Whether it's a musical, a play or a film, I approach the work in the same way—through a lens of curiosity and truthfulness.
One last thing: What would you say "Cabaret" is about?
"Cabaret" is an eerily timeless story of the lengths to which people will go for self-preservation.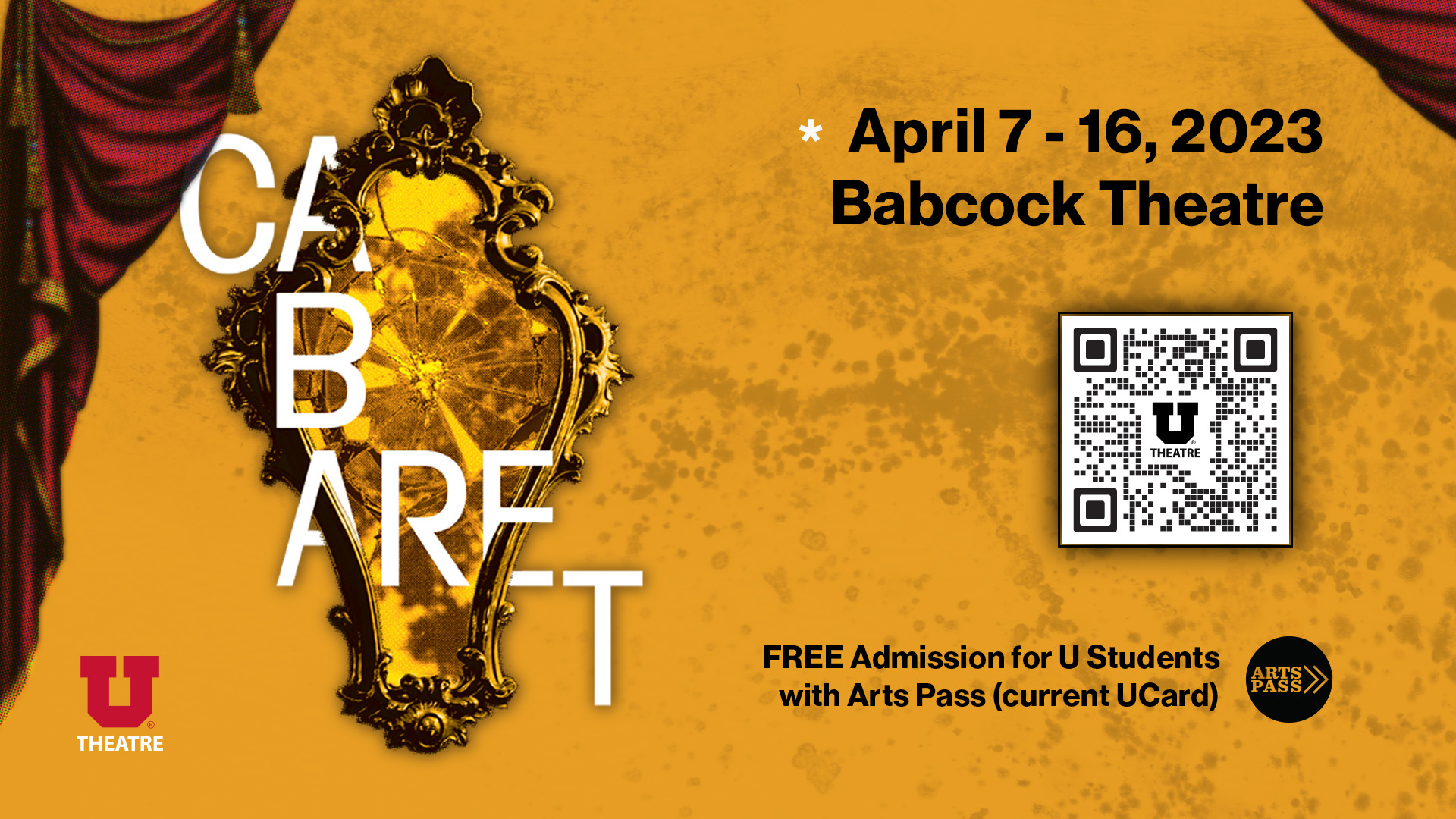 CABARET
April 7-16 | Babcock Theatre
Buy tickets here or call (801) 581-7100.
Free admission for University of Utah students with Arts Pass.
Credits
Directed by David Eggers
Music by John Kander
Lyrics by Fred Ebb
Book by Joe Masteroff
Based on the play "I Am a Camera" by John Van Druten
Adapted from the novel "Goodbye to Berlin" by Christopher Isherwood