By Emeri Fetzer

When Utah's K-12 schools closed in response to COVID-19, graduate students in the U's Masters of Arts in Teaching - Fine Arts (MAT-FA) program wondered how to move forward with the projects they and their young students were already hard at work on: things like team murals, original music collaborations, and movement activities. The arts are inherently social, interactive, and tangible.

In this new and developing community challenge, how could they push forward, and ensure their students didn't lose progress, as well as their connection with one another?

In a time of increasing isolation, the U's community of fine arts educators leaned on each other for strength and innovation. To brainstorm solutions, MAT-FA graduate students turned to faculty members in the College of Fine Arts who were facing the same complex challenges in taking their university courses online. What resulted from these collaborative conversations were numerous smart solutions, and an abundance of encouragement.

When the pandemic hit, MAT-FA educator Laura Decker and her students at Monticello Academy in West Valley City were working on developing sculptures about culture and identity. In such a hands-on experience, it is difficult to instruct without referring to a physical example. Also, students at home do not have the access to art supplies that they would at their schools.

So, last Monday, on the first official day of online learning for the state of Utah, Monticello Academy students and families came to the school to pick up art project kits along with a piece of clay and art making instructions that Ms. Decker had prepared. The students were incredibly excited to see her and to be back in the school building even for a brief period during this time of uncertainty. Students were thrilled to collect their art kits and for the opportunity to complete their sculptures at home.

By Thursday, three days later, over 50% of the students had finished their sculptures and sent back photos. But Decker wanted her class to see each other's work and discuss the finished projects as a group. To this end, she is now asking them to take thirty-second, 360° videos of their sculptures and answer a few questions about their process and inspirations, which they will then share collectively.

Eric Spreng's middle school band students at The Open Classroom in Salt Lake City were in the midst of writing original musical compositions on the theme of climate change when they were asked to stay home. They were very much looking forward to performing their pieces for each other and their families this April. But like all other live performances nationwide, this was no longer in the cards for this spring.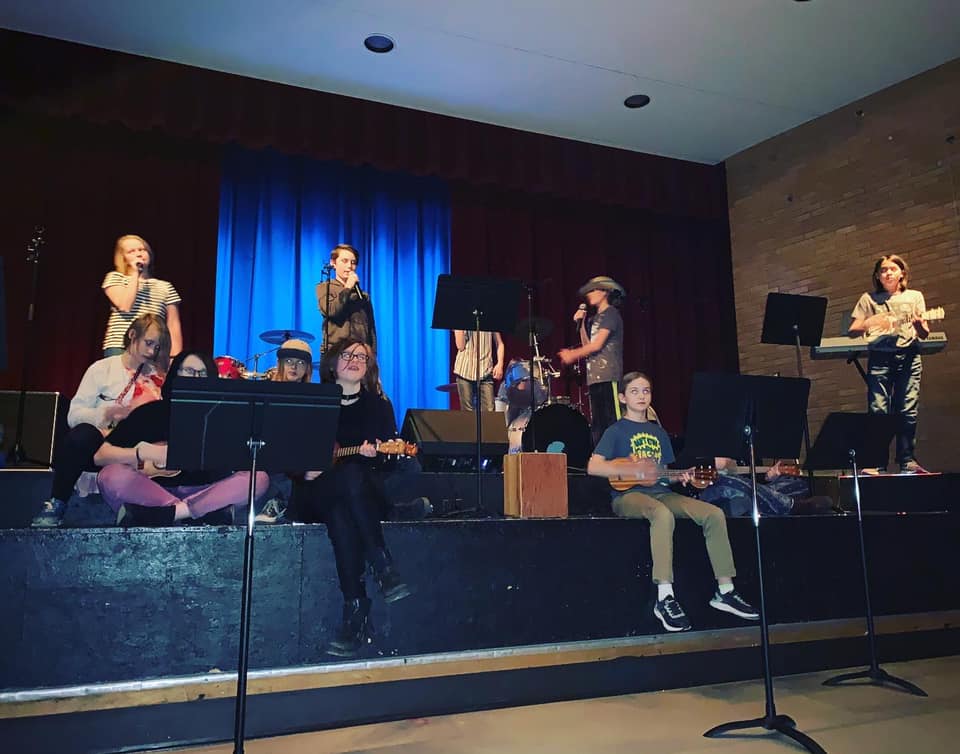 Some of Eric Spreng's middle school music students at work, prior to distance learning

After meeting with Jared Rawlings, Ph.D., Associate Professor in the School of Music, Spreng, another standout MAT-FA candidate, is inspired to take a new direction that he hopes will still unite his student musicians. With their own instruments from their private homes, each student will call into a live Zoom session where Spreng will conduct them all together. They hope to send footage of their online concert to the legislature, sharing their climate change ideas and reflections with their local leaders.

Examples of adapting education to a format for social distancing abound: theatre students in secondary schools discovering and self-taping monologues related to their current emotions, visual art teachers creating tutorials to follow on YouTube tutorials, or live-streaming the painting of a class-planned mural while students to comment on its direction and progress -- the list goes on and on.

One thing is certain, the arts in schools are not going anywhere.

And even while they are digital, their value is deeply felt, by both Utah's young people and our community at large.

To learn more about the U's Master of Arts in Teaching - Fine Arts program, click here.