By Emeri Fetzer

During U Youth Theatre's summer sessions, students could be asked at any moment to run and grab a creative costume they can find, as quick as they can. They are guided to locate an object in the room that they then devise a spontaneous scene around. They might burst into a familiar song with their fellow classmates.

In the summer of 2020, they cannot yet be in the same physical space. This is all happening virtually on Zoom.

Even so, these moments somehow feel like truly being together.

Penny Caywood, artistic director of Youth Theatre at the U didn't know quite what to expect when she and her team of artist teachers decided to forge onward with summer theatre sessions for K-12. She and most of her team had finished teaching virtually in the spring with the COVID-19 pandemic hit, and they gained valuable insight as to what works and what doesn't.

With so many families looking forward to the summer, the team felt the pressure to deliver, but also to be safe. Many students were still committed to summer theatre, in whatever format it had to take. Soon, Caywood and team were able to say to elated participants: "The summer is happening."

While working on a teaching framework, Caywood knew she wanted the screen to be the jumping off point for Youth Theatre, not the main activity. "I was thinking, how can we use our screen time to actually get kids off the screen?" she said. "Things work best for us when we are creating in the space, not just giving them an assignment to work on alone and then come back. Kids are hungry to create together."

So, during their zoom sessions, students are invited to spontaneously play on group prompts, bringing them out of their seats to explore the environment around them.

In some ways, this experience can be even more personal that studio time. "It's fun to see everyone's space, it gives you ideas." Caywood said. "I can say, 'what's that behind you? Go grab that!' In a way there is a new closeness. You are not just coming to my class, you are inviting me into your space. It's not your parents dropping you off, it's an invitation. I get a warm feeling when they all pop up on screen."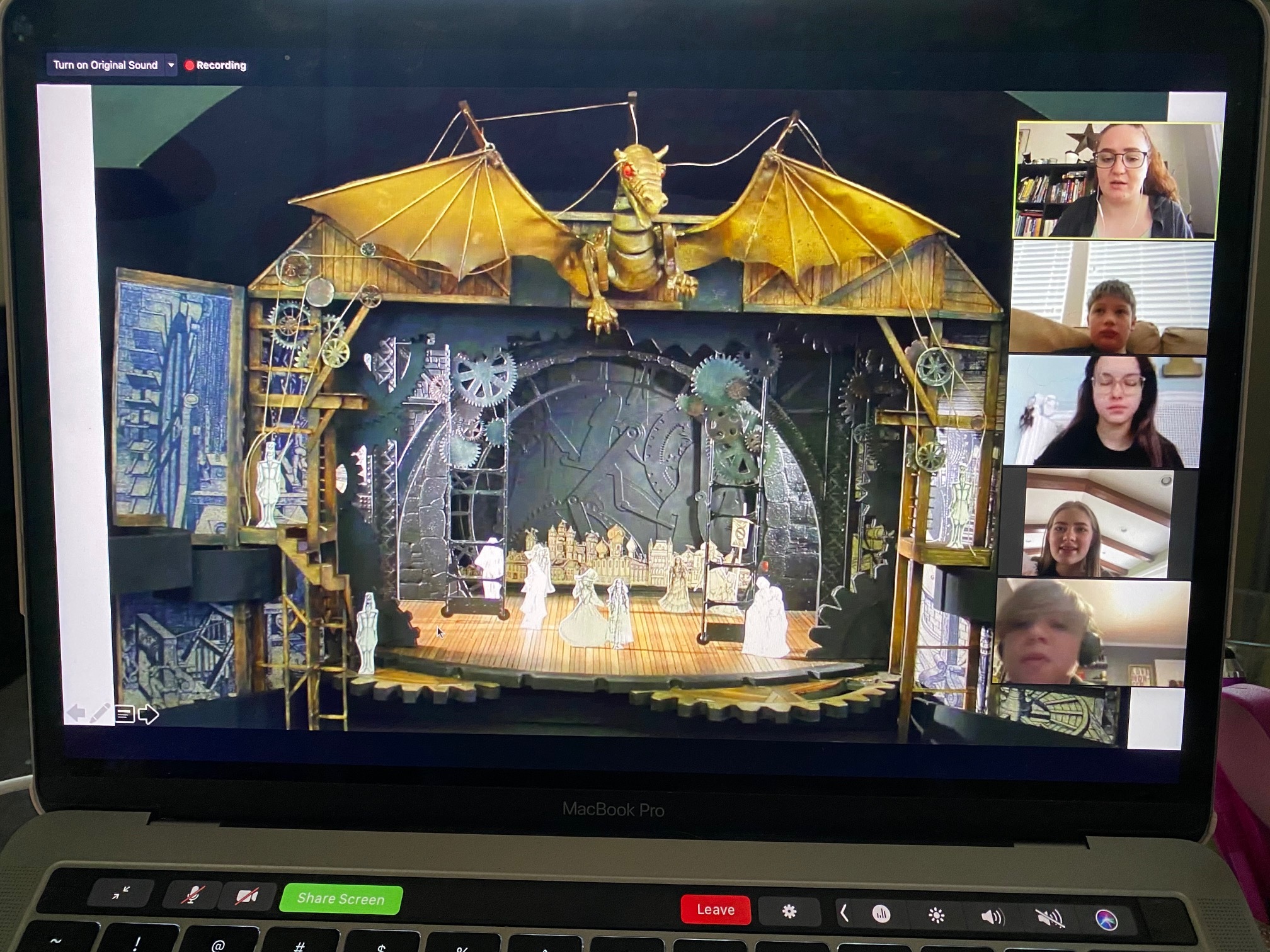 Within class, the students are also planning mini video productions which will be shared at the end of each session, highlighting their work. When a video editor was suddenly needed, Caywood was delighted that a high school senior, in the program for many years, stepped up. In preparation for college, he had received Adobe Premiere Pro and needed a project to learn and experiment with the new software. Caywood jumped at the chance to give him one more chance to learn, and have him help fellow students in the process.

This close-knit nature of the U Youth Theatre community has been a unique strength in the face of challenges. "Most of the teachers have been with me for over ten years," Caywood explained. "I always take it as such a compliment that they return year after year. After all this time, we really share the same goals."

To maintain a sense of strong community across the grade levels (who are divided into different online classes) they are leaning into a platform called Flipgrid. "When we write a lesson, we include a video and then kids can respond with a video, all on Flipgrid. We have one 'grid" for all of Youth Theatre. So, a third grader can see what a high schooler is making, and they can view it or comment on it. It builds community even when we are not together. It sort of recreates what would happen in our building, walking by a student singing, or stumbling on a dance class."

As they come to the end of Session 1, registrations are at about a third of what a normal summer would look like, which exceeded expectations.

"It's really about the process," Caywood said. "I'm mostly grateful that these kids and their families think highly enough of our program to come back together and try it out with us."

And the feedback reflects the effort.

One parent, in a quick email to Caywood recounted:
"It's been about 40 minutes since Orange Company ended and my daughter talked for about 35 of those minutes. While hopping up and down. And smiling like her face might break in two. IT WAS SO MUCH FUN she practically shouted at me as soon as the Zoom call ended. She couldn't stop talking about how much fun the actual session was, and how happy she was to see teachers and teen aides and friends, and how the games were great, and how the ideas Darin has for the session are genius, and what villain and song she wants to pick for their production, unless everyone votes for CATS in which case that would also be amazing.... (just imagine over half an hour of nonstop enthusiasm.)"

Turns out summer won't be so bad after all.

For more information on U Youth Theatre's Summer Sessions, visit their website. And look out for the productions, airing soon on social media at @uuyouththeatre!