Roger Thompson on The Art of Giving


Colleen Thompson (BS '62) perpetually wished she had taken her musical talents further.
While she took piano lessons in childhood and sang beautifully, Colleen never had a cheerleader who helped her develop them.
When she married Roger Thompson (JD '67), who she'd met in high school, she decided "I am going to have a big family and they're going to be able to play music," her daughter, Jenny Corbett, explained.

The Thompsons achieved that goal. All seven of their children, and most of their 28 grandchildren, play at least one musical instrument. And music takes center stage in family traditions and events.
"It's been a part of our lives, not necessarily on a professional level, but it's been a part of our family," said Roger.
This spring, Roger established the Colleen Kelly Thompson Endowed Music Scholarship to help young people pursue music at the U. It honors Colleen and her lifelong commitment to music and helping others. When Colleen passed away in August 2020, she and Roger had recently celebrated their 56th wedding anniversary.

"It was her insistence that the kids had music. She was the one that drove them to lessons, encouraged them to practice...she was the backbone of our family. So, it was natural to create the endowment in her name," said Roger.

Colleen, or "the Little General" as she called herself, orchestrated the daily complexities of getting seven children to play musical instruments. But Roger was as committed behind-the-scenes.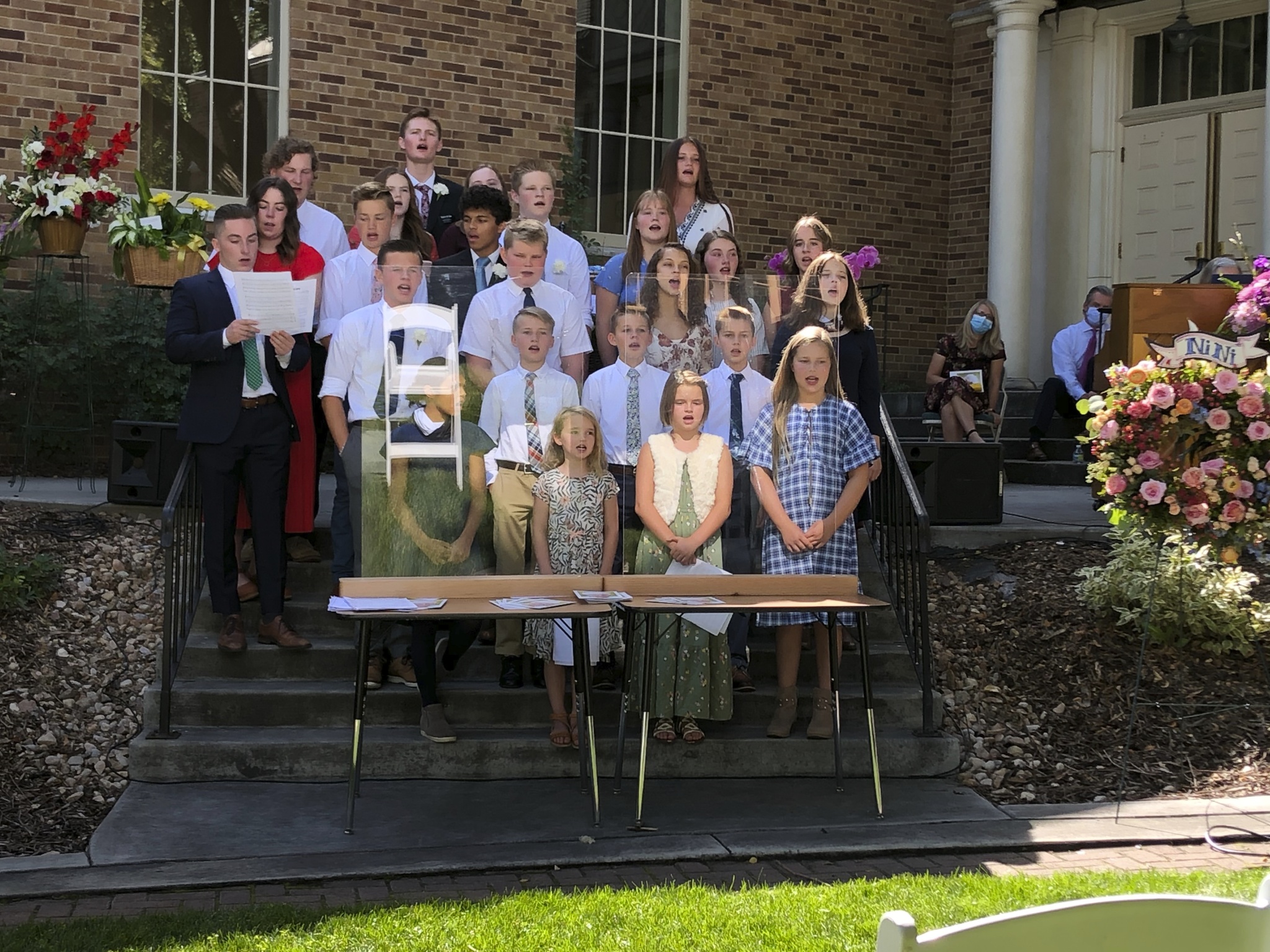 Roger and Colleen's grandchildren sing at her funeral service, August 2020

Roger studied history at Yale University and earned a law degree at the University of Utah, both on scholarship. After working briefly in law, he and lifelong friend Jim Michie built over 48 years a successful real estate partnership, now TM Equities. Along the way, Roger always made time for music.
His mother introduced Roger to music with piano lessons in elementary school. By junior high, he'd migrated to the clarinet and saxophone. Roger played in his first band – jazz - in junior high. He learned to love instrumental music while studying clarinet with Utah Symphony clarinetist and East High Orchestra Director Dow Young.
"You're not really truly well-educated unless you have appreciation for the arts. They add so much to your life. We need the School of Music; we need artists; they add to our overall well-being as a society."
At Yale, Roger sang in vocal ensembles for the first time. He got into its world-renowned all-men a cappella group, The Yale Alley Cats. Later, Roger was asked to join the exclusive, 14-member Whiffenpoofs. Singing gave Roger community at Yale.

"We'd practice and then go eat together, travel for gigs. It was like a fraternity; they were my friend group," Roger said. Music opened up other opportunities. The "Whiffs" sang nationally and internationally, not to mention their weekly gigs at the notorious Yale Club, Mory's.

It didn't stop at Yale. When Thompson returned to Utah to study law at the U, he found time sing in a quartet. And later, he would sing in the world-famous Tabernacle Choir. Today, he directs music at his church. And, of course, he plays and sings in their family's highly-anticipated annual Christmas concert.

A decade ago, Roger and Colleen joined the School of Music Advisory Board and expanded their support of young musicians. As major sponsors of the Camerata Awards Gala, they funded scholarships, instruments, and integrated learning opportunities.

In 2020, Roger and Colleen were honored with the 20th annual Camerata Award for their extraordinary generosity and service. A private celebration was held in the Thompson's garden just days prior to Colleen passing.

The Art of Giving celebrates remarkable stories from the College of Fine Arts donor community.