"Music is my one and only personality trait," jokes University of Utah School of Music student Maren Hansen. Set to graduate this spring, Hansen is studying music education with a choral emphasis.

A pianist from a young age, she first found a love of singing when asked to accompany the choir at her high school. When the director encouraged her to audition, she discovered that being in the choir, rather than alongside it, really appealed to her.

Pursuing the arts in college wasn't a no-brainer, however. Concerned that music wouldn't be a viable career, she initially studied business. It didn't pan out. After two semesters, she was no longer in school.
Then, as she puts it, a "super lucky, accidental, fell-into-her-lap job" placed her as a substitute choir teacher at Summit Academy in Bluffdale. Music education was so compelling, she wanted to return for a degree. Dr. Barlow Bradford was what attracted her to the U School of Music.
"I really like when people discover their own abilities as a musician," she said. "With junior high and high school students, that age is when they are starting to discover not just their voice as a musician but also as a human. It's not always about the music. Sometimes it's just like, 'hey, you're a person, your voice has power whether you are using it musically or not.' To be part of that journey, to have influence on young people coming into themselves for the first time – it's really powerful."
Like many University of Utah students, scholarship support has made all the difference in Hansen's story.
"I didn't always have scholarships. The first couple years of school I was paying out of pocket," she explained. "The first scholarship came at a point when I was considering not finishing school. That semester I felt like I had an external reason – someone believes in me enough." She went on: "It has enabled, allowed, encouraged me to be able to take myself seriously. [Music] is not something I am doing because I had enough money to pay for it. Someone else is expressing that it's something worth pursuing, and something I deserve to pursue."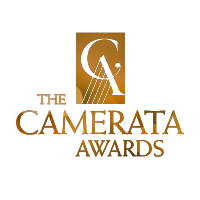 This weekend, the U School of Music will celebrate students just like Maren and the generous community that supports them at the annual Camerata Awards.
Established in 2001, the Camerata Awards celebrates musicians and patrons of the arts and their contributions to the University of Utah and the broader community.

Attendees leave inspired – by the stories of the passion, dedication, and talent of each year's honorees, as well as the beautiful music of the student performers the event showcases.
This year, the 21st Annual Camerata Awards will honor the M. Lynn Bennion Foundation and John Marlowe Nielsen for their extraordinary advocacy and support.
M. Lynn Bennion Foundation

When beloved educator and school superintendent M. Lynn Bennion passed away in 1998, he established a foundation, naming his children Annette Clark, Carolyn Heaton, John Bennion, and Rebecca Glade as trustees. For the past 23 years, the Bennion siblings have funded more than 100 scholarships in education and music at the U and Westminster College. Doing so has brought them closer, while furthering their parent's legacy.
John Marlowe Nielson (1908-2002)

Over a 55-year musical career, Marlowe – as he was known to most – conducted and taught thousands of Utah singers. From a humble Idaho upbringing, he graduated from the U and served on its faculty for 28 years. He turned the 30-member University Men's Chorus into a showpiece. He established and conducted for 14 years The University Chorale – today the Utah Symphony Chorus. In retirement, he conducted the preeminent chamber choir Pro Musica of Utah for 24 years.

Join the School of Music for an unforgettable evening.