When asked what students are thinking when it comes to life after college, ArtsForce Emerging Leaders interns shared valuable insight.

"I know a lot of people are scared about the exact path they are going down, and if it is the right one," U Department of Film & Media Arts student Cayden Turnbow explained. "You have this idea of what it's going to be and if it doesn't exactly go that way it can feel like failure."

School of Dance student Celine David has a similar thought. "It's intimidating going into such an unknown world when you have been a student your whole life," she said. "This is such a big shift – from working on your art every day to a path that isn't so set for you."

"I think students are worried about finding a position they will enjoy, and that will make all the time and money they invested in their college education worth it," Duke Ross, also pursuing film, said.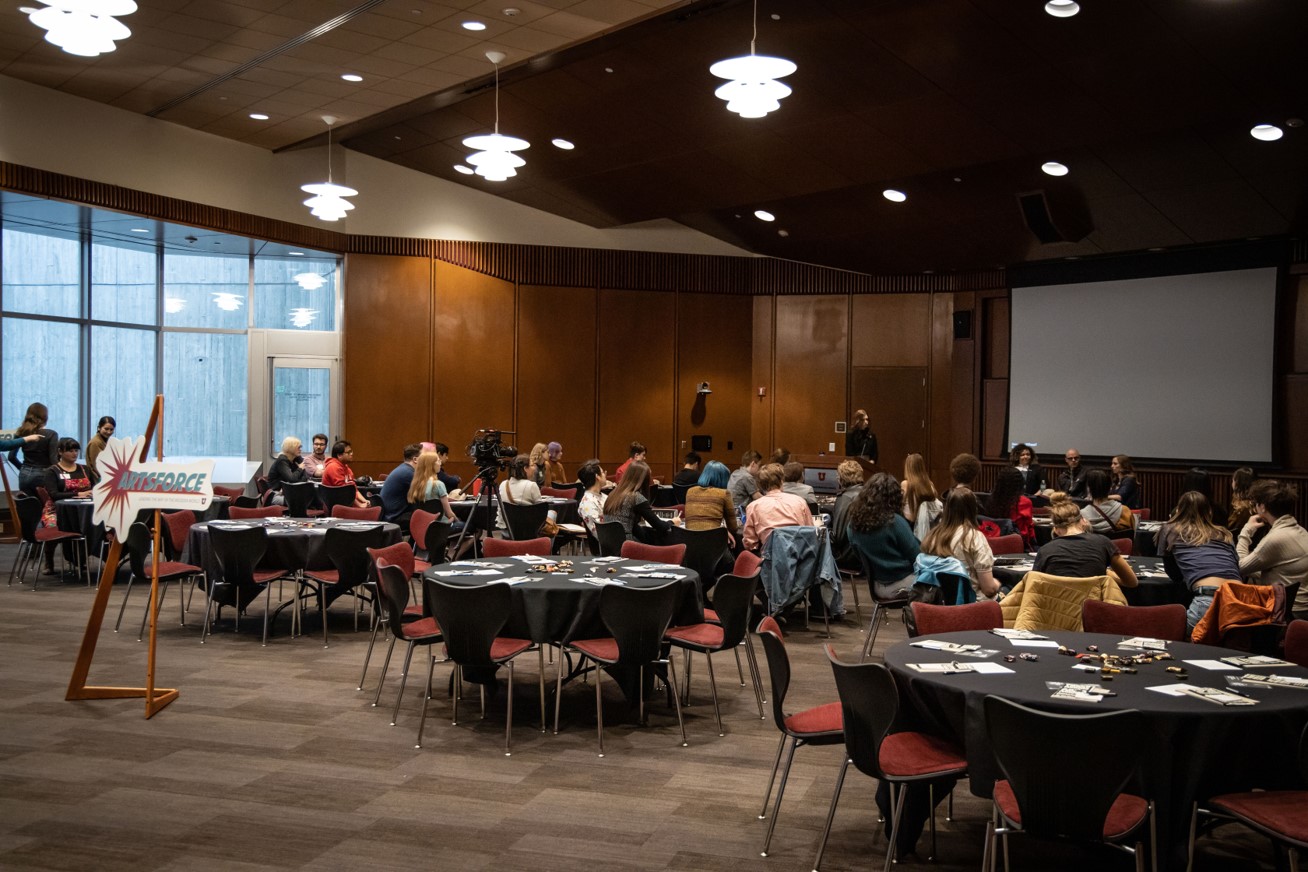 But here's the good news. They have planned an event to help students navigate these very concerns – and make valuable community connections along the way.
This Saturday, March 26th, ArtsForce will host their annual networking event, (in person!) at the Utah Museum of Fine Arts. Students will definitely not want to miss this chance to gain insight from a panel of fine arts professionals, meet local employers, network with alumni, and more.

"I'm excited for students to see all the opportunities there are. I think when you are getting ready to graduate, it can feel like there is nothing out there. But you just need to be made aware of the opportunities," David said.
Intern Kaitlin Kerr-Osman chimed in: "I'm excited to have the opportunity to connect with people in the local arts world. In college, it's so easy to get all your time sucked up by projects. It's nice to take a step away and focus on something that will be very important for your future."
Attendees will hear from panelists Allison DeBona (Owner & Artistic Director of artÉmotion and Ballet West soloist) Arthur Veneema (Director, Screenwriter & Producer), and Nancy Rivera (Visual Artist, Curator & Administrator), then enjoy free lunch and a friendly networking hour.

Scared of the idea of networking? It's not as bad as you think. And there is so much to gain.

"Talking to professionals in different areas other than your own can give you so much value and understanding of the experiences we will all have to face. People really do have so much depth and insight into things you wouldn't have considered," intern Pablo Cruz-Ayala asserted.

"I've learned what communities I do and don't want to be a part of," Ross added. "There are some situations I have vibed with, and others that were less in line with my values and needs. It reinforces some things, and makes me question other things."

There's still time to join in the fun. So gather your burning questions, a couple friends, and an open mind. You won't be sorry.
The First Step: Launching your Career in the Arts
ArtsForce Annual Networking Event
SATURDAY, MARCH 26 2022
10AM – 1PM
Utah Museum of Fine Arts
RSVP HERE