Each year, many fine arts students immerse themselves in exciting research, leaving a mark on their disciplines.
The College of Fine Arts is excited to celebrate the exciting work of two finalists for Outstanding Undergraduate Researcher 2022.


Brynn Staker St. Clair collaborated with Dr. Elizabeth Craft in the musicology department in the U School of Music on her research on early American musical theatre. Staker catalogued and organized clips from Illinois newspapers that provided much-needed information on George M. Cohan and early American musical theater, as well as examined Utah newspapers from Cohan's time to better understand his national reach. She presented the research findings alongside Dr. Craft at "Fridays with Faculty." Staker was also employed by the University of Utah History Project, working to build a comprehensive history of the School of Music, spending signifiant library hours cataloguing programs and other historical university resources.

In Their Own Words
"I began my research because I took a class from Dr. Elizabeth Craft. I discovered a fascination with American music. It's always been my favorite to sing, as I consider myself a poetry nerd. Dr. Craft talked about the book she was writing, and that immediately caught my attention. I credit her with inspiring my interest in research.
This semester I have expanded my research to focus on local performances. I have loved familiarizing myself with Utah performance history: the significant players, the vast appreciation, and the general response. I feel like this branch of my research has helped me connect very personally with the material.
My research last semester was all about race in American musical theater. This was a fascinating project for me and allowed me to look more deeply at the prejudices embedded in the performances this country has come to love. It certainly taught me to look closer and to examine art through different perspectives."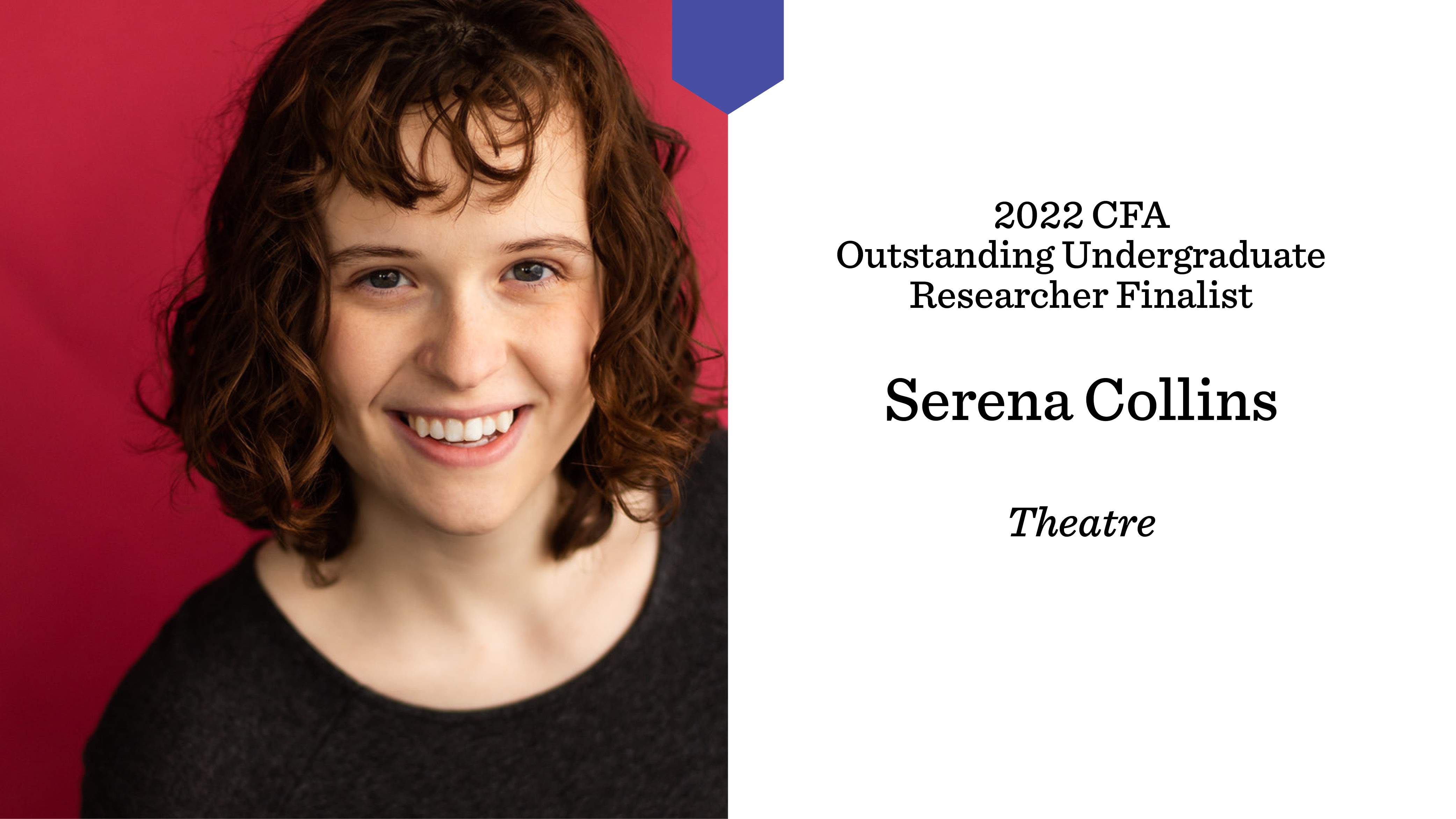 Serena Collins saw her original, full-length play entitled "Sympathizer" through all of its writing and production stages over the span of nearly two years and four academic semesters. Her research culminated in an off-campus production of the play, as well as a staged reading on campus as part of the Department of Theatre's New Plays Workshop, April 25-27 at PAB 115.
"Sympathizer" centers around main character Calla, who finds herself in uncharted territory when her oldest and closest friend does something bad. With strong opinions on all sides, Calla tries to figure out what is right in the #metoo era. The script lives in the aftermath of sexual assault and begs the question, how do we begin to heal?

In Their Own Words
"One of my favorite discoveries came from an audience member at the production of "Sympathizer." They were a [sexual assault] survivor themselves and after the performance we had a long conversation about the difficulty of a survivor seeing their perpetrator go on to live a normal life. In that conversation, I realized an important nuance that the script was missing. I realized that, as important as it was to highlight empathy as an agent of change, it was equally important to validate the fact that no one owes a perpetrator a second chance. Full stop. That conversation added a whole scene to the current draft of the script!
When I started thinking about these issues, I was afraid to share my questions and thoughts with the people in my life because it was taboo to question the logic of my political group. Questioning meant disloyalty—it was equated to being what my peer group called an "abuser sympathizer." Now, I am less afraid of social repercussions because I feel so passionate about the conclusions that my research has brought me—human beings are complicated. Shame doesn't work. Empathy does.
Professors in the Actor Training Program would often ask us to identify our artistic voices by asking ourselves the question: 'as an artist, what do you need to say?' Through my research, I have found my artistic voice. What I believe I have to offer to the world is my passion about and belief in the power of empathy."