The University of Utah Department of Theatre closes the 2017-18 season with The Two Noble Kinsmen at the Babcock Theatre 4/7 – 4/15. As one of 39 plays to be translated into modern English for the Oregon Shakespeare Festival's Play On! Project, this play was translated by Professor Tim Slover with production dramaturgy from Alex Vermillion and Play On! Project dramaturgy from Assistant Professor Martine Kei Green-Rogers. The production is directed by College of Fine Arts Distinguished Alum Randy Reyes, with Artistic Director Bill Rauch and Executive Director Cynthia Rider.
The themes of The Two Noble Kinsmen are universal—love, honor, respect—but in the world of our protagonists, Arcite and Palamon, these ideas come at a much higher cost than for the average modern US citizen. "The world these cousins live in is one of turmoil, it's war-torn, blood-drenched, and controlled by the gods. And yet, The Two Noble Kinsmen reminds us that even in the darkest of times, there are moments of humor, gentleness, and celebration," said Vermillion.
MU Performing Arts Artistic Director Randy Reyes has created a world inspired by ancient Greece, the Blackfriars' stage, war, "The Hunger Games," hip-hop culture, and high fashion. "By combining all these elements we are creating a unique world reflective of the past (Shakespeare's original inspirations), the present (Slover's translation), and the future (with the next generation of Shakespearean actors)," said Reyes. The translation celebrates Shakespeare's masterwork by focusing directly on translating the antiquated language to increase understanding, while maintaining the vibrancy of the original.
The Department of Theatre's production of The Two Noble Kinsmen hopes to reach Shakespeare fanatics and make Shakespeare more accessible and inclusive to audiences who have little to no experience with his work.
About the Play On! Project: Oregon Shakespeare Festival commissioned 36 playwrights and paired them with dramaturgs to translate 39 plays attributed to Shakespeare into contemporary modern English. By seeking out a diverse set of playwrights (more than half writers of color and more than half women), they hope to bring fresh voices and perspectives to the rigorous work of translation. Each playwright is being asked to put the same pressure and rigor of language as Shakespeare did on his, keeping in mind meter, rhythm, metaphor, image, rhyme, rhetoric and emotional content. By the end there will be 39 unique side-by-side companion translations of Shakespeare's plays that are both performable and extremely useful reference texts for both classrooms and productions.
Join us for a post production "Shakespeare Translation Discussion" with Dr.Lou Douthit on 4/7. Dr. Lue Morgan Douthit is the Director of Play on! 36 playwrights translate Shakespeare, the post-show discussion will include the highly debated topic of translating Shakespeare and the impact that Play on! is achieving through making Shakespeare more accessible and inclusive. Other members of the post-show discussion will include The Two Noble Kinsmen Director, Randy Reyes and Assistant Director for Play on!, Taylor Bailey. Reyes is an alumni of the University of Utah Actor Training Program who received a College of Fine Arts Distinguished Alumni Award in 2016 and graduated from The Juilliard School Drama Division in 1999. He is currently Mu Performing Art's Artistic Director.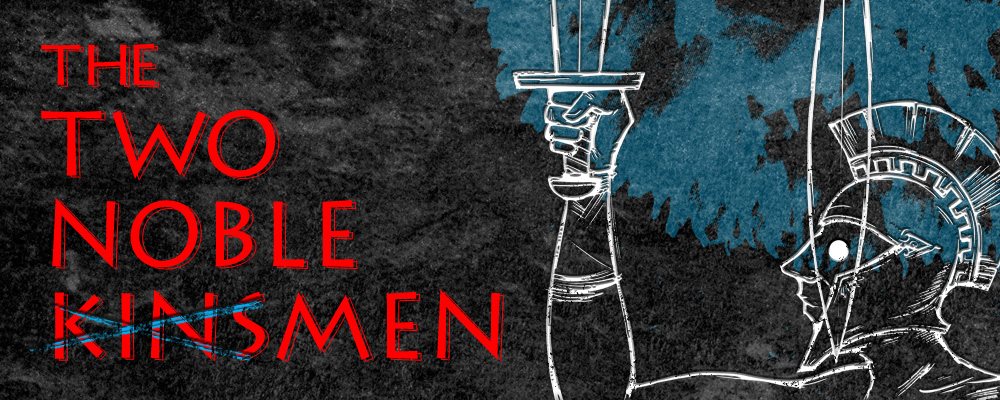 Two Noble Kinsmen runs 4/7- 4/9 and 4/13- 4/15 at 7:30PM with a matinee at 4/15 at 2PM. Located in The Babcock Theatre, located at 300 South and University Street (1400 East) in the Simmons Pioneer Memorial Theatre, lower level. Free parking is available to the south of the theatre and at Rice Eccles Stadium.
Post-Performance Discussion is on 4/7 with Randy Reyes, Director; Dr. Lue Douthit, Play On! Director; and Taylor Bailey, Assistant Director of Play On! and the Post-Performance Panel on 4/14 with Dr. Ann Engar, Professor of Intellectual Traditions and the Honors College; Dr. Richard Preiss, Associate Professor of English; and Dr. Disa Gambera, Associate Professor of English.
General Admission tickets are $18, University of Utah faculty and staff are $15, U of U students are free with UCard and all other students with valid student ID are $8.50. Tickets can be obtained by calling 801-581-7100, online or at the Performing Arts Box Office, located at Kingsbury Hall.