MAGNIFYING is a series dedicated to showcasing the talent of our students, faculty, and staff to help you learn more about the remarkable individuals within our creative community here at the College of Fine Arts.

Casey Overfield has played tuba in the University of Utah's Marching Band for three years. A Communications major originally from Northern California, Overfield immediately connected with the camaraderie of the Marching Band. A valued and committed member of the band since her first moments here on campus, she exemplifies the value of the arts within interdisciplinary studies.

How does your work in music inform your studies in communication?
Because of my time in the music community, I like to think that I have become more friendly, outgoing and confident in myself. Marching band has allowed me a space to really express myself and grow as an individual. As far as my communication studies, I need to be able to talk to and relate to a wide variety of people, and I get lots of practice with this in marching band, as we have students from all different backgrounds coming together in the band.

What has been your experience finding community here at the U, especially as an out-of-state student?
During band camp, all of the out of state students live together in the University Guest House, and during that week, I met my first five friends. To this day, we still hang out and try to make dinner together once a month. They are some of my closest friends and I never would have met them without the marching band. In general, I am a very involved person, and I have found community not only in the band but also in student media, the student life center and in my classes. Utah has been extremely welcoming to me and being an out of state student has been a fun and rewarding experience!

Favorite memory from Marching Band?
One of my favorite moments from marching was from this season when we traveled down to Provo to play in the Holy War. The LaVell Edwards Stadium is quite hostile towards us, and we were surrounded by BYU fans. As the band snaked our way through the stadium to get to our seats, we started up a "U-T-A-H" chant and it echoed through the stadium and filled the opposing environment with Utah pride. The feeling of walking into a big game with 150 of my closest friends yelling and jumping around and having a great time is one of the highlights of my time with the band! Of course, outside of a game situation, the tuba section is amazing and every year they are my closest friends!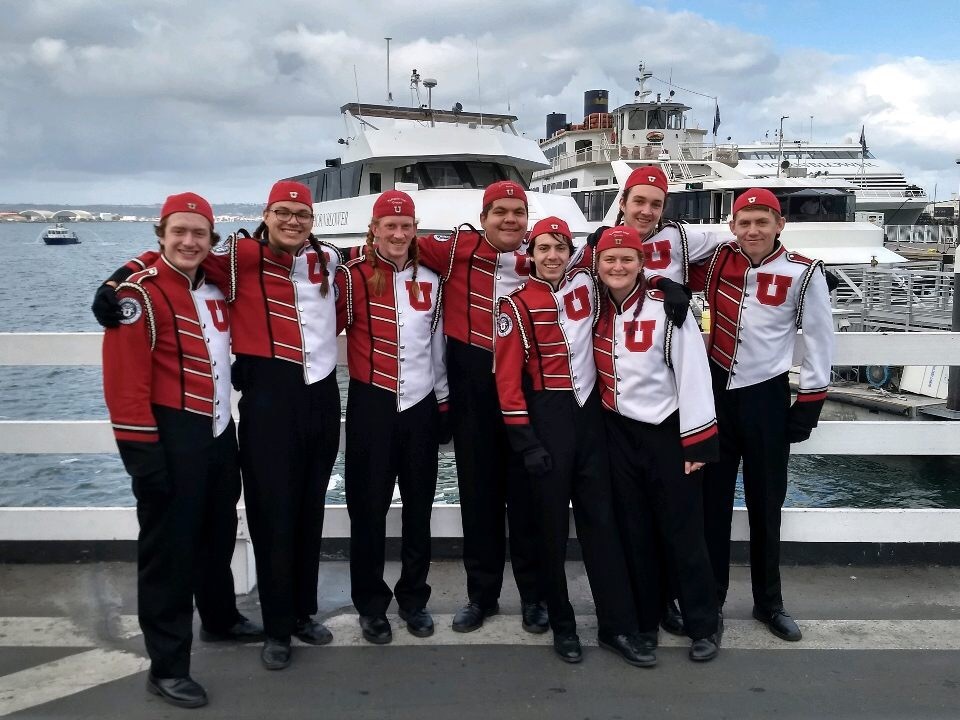 What are your goals for this year and beyond?
I am planning on wrapping up my communication degree a year early which will put me in place to graduate in the springtime! After graduation, I would love to work as a sports journalist with a news company or a team for a few years. After that, I would like to return to school to get my Master's degree in management so that I can work up the ranks in the sports field. However, I haven't solidified my plans completely and I am just trying to enjoy my time in school while I can!

Why do you think the arts on campus are worthwhile for students?
Through the arts on campus, I have been exposed to one of the most open and welcoming groups of students in the school. Even as a non-music student, the staff and students in the school of music have been extremely welcoming and supportive in helping me find opportunities to succeed in the performing arts. The arts community on campus is very close knit, welcoming and fun, and I recommend getting involved as much as possible in the arts!