When Dr. Robert Breault taught David Sauer as a voice student in the University of Utah's School of Music, he couldn't predict that this student would one day hire him to direct a familiar opera where he would work alongside several of his former and current students in a professional production.

Sauer, who received his Doctor of Musical Arts at the U, is now General Director of St. George Opera, beginning its third season. This week, St. George Opera presented "La Bohème," in which Sauer sang the lead role of Rodolfo. For this production, he seized an opportunity to once again work with his former professor.

"I directed David in a production of 'La Bohème' in Italy," Breault explained. "I think that David enjoyed the process, and the production, and hired me to direct 'La Bohème' which is the first professional fully-staged opera to be presented [in St. George]."

This is one of numerous university connections at play. Cast members Christopher Clayton (Marcello), and Hillary Koolhoven (Waitress) also earned their master's degrees from the U. Michelle Pedersen (Musetta), and Greg Watts (Benoit and Alcindoro) are both currently master's candidates.

Breault knows them all well. He is Pedersen's voice teacher and Koolhoven was his assistant director in "La Rondine," where Sauer sang the challenging role of Ruggero. To see students' progression throughout their professional pursuits is a rare and meaningful opportunity for him.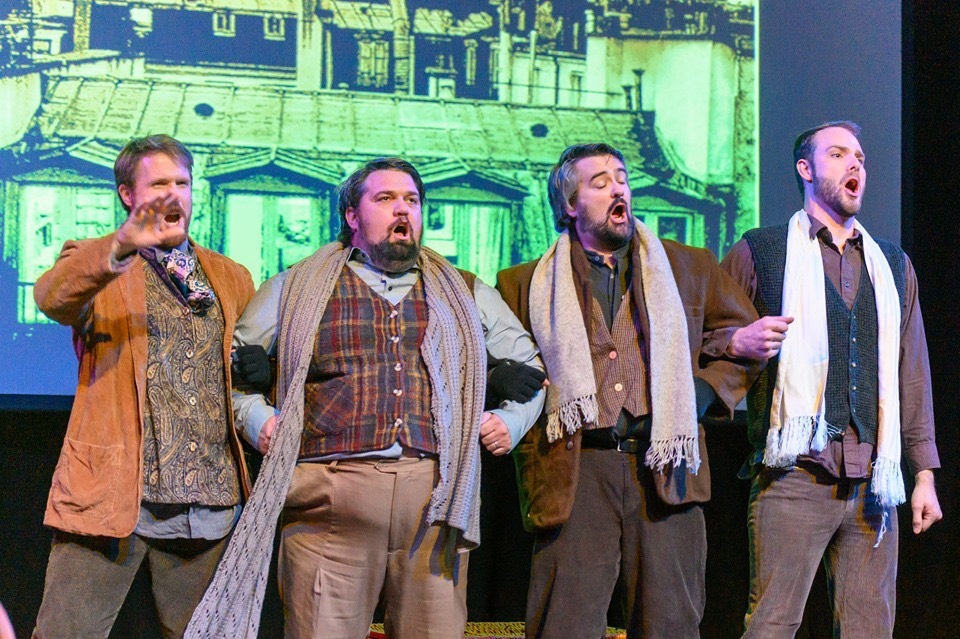 "I cannot express how proud I am of David and all the students and former students in this production. They are all brilliantly demonstrating the skills we work(ed) so hard to develop in their training at the U," Breault said. "It is very difficult to find the kind of traction in our business that will launch a successful career. To see David running a company and hiring his colleagues and even his mentor, well, it just makes me very happy and proud."

Current U music students not in the cast were able to observe "La Bohème's" progress as the company began staging the opera on campus at the Vocal Arts Center in the evenings, offering a glimpse into the real working world after graduation.

Breault noted this kind of opportunity for professional development gives the U's fine arts programs real edge.

"When students concurrently perform and study, they demonstrate that we're doing something truly special at the U. This kind of thing significantly distinguishes us from other programs," he noted. "It's kind of like when a student performs with Ohio Light Opera in the summer, or a theatre student works at Pioneer Theatre Company, or a string player sits with the Salt Lake Symphony. It's really exceptional."