Close your eyes and picture a Cyclops.

Pop culture has provided any number of images that inform the depiction: towering and burly, one glassy eye filled with rage, perhaps a toothy grimace.

But how to communicate the sheer size of such a menacing figure on stage? How to allow an audience to step into the shoes of Odysseus as he battles the blood thirsty giant, Polyphemus?

For Alexandra Harbold, Assistant Professor of Theatre and Director of "The Odyssey" opening November 8th, it is creative problems like these that sometimes fuel the best ideas.

To bring Mary Zimmerman's acclaimed adaptation of the classic to life, Harbold and cast are drawing on heightened physicality, choreography, and even puppetry to imbue the production with the big energy the story demands.

"Zimmerman's adaptation and direction are so dovetailed in the rendering of the script," Harbold explained. "She's a really physical storyteller."
In Chicago Reader's article examining Zimmerman's approach to "The Odyssey," she explains that the play is so full of superhuman passions and adventures and creatures that portraying them realistically is impossible.
Instead, she incorporates abstract visual gestures that strike the emotional chord within the action.


The Cyclops encounter is only one of numerous larger-than-life moments in "The Odyssey" that call for physicalization -- be it a wild sea, a hall filled with boisterous suitors, a bag of winds, sly sirens or a violent battle.

"I've met Zimmerman's work through iconic images," Harbold continued. "We've tried to both honor how she staged the production, which is in the footprint of her adaptation, and explore where we want to do things differently."

For instance, creating Cyclops: instead of using shadow play as in past Zimmerman stagings, the U's production will embody the beastly creature through puppetry and steel drums. The costume and crafts design team has made an immense puppet head and hands with flexible digits. "How can the actor balance and still have a giant head?" is just one of the fun challenges the cast is fine-tuning.

The Odyssey cast is comprised of both Musical Theatre Program and Acting Training Program students. Although these distinct programs have different training priorities, a show like "The Odyssey" is the perfect place to find common ground and common growth. Through movement and creative problem solving, the cast has been cultivating a shared language, while discovering the work of many groundbreaking artists who have acted as inspiration.

While gathering ideas, Harbold has drawn from favorite work from Frantic Assembly (who actually worked with actors from the Department of Theatre last year) and Complicité, as well as contemporary choreographers like Hofesh Shechter, Crystal Pite and Ohad Naharin whose movement language feels particularly connected to the suitors that overtake Ithaca."It's so exciting to be exposed to different vocabularies so you can understand all you have to play with," she said.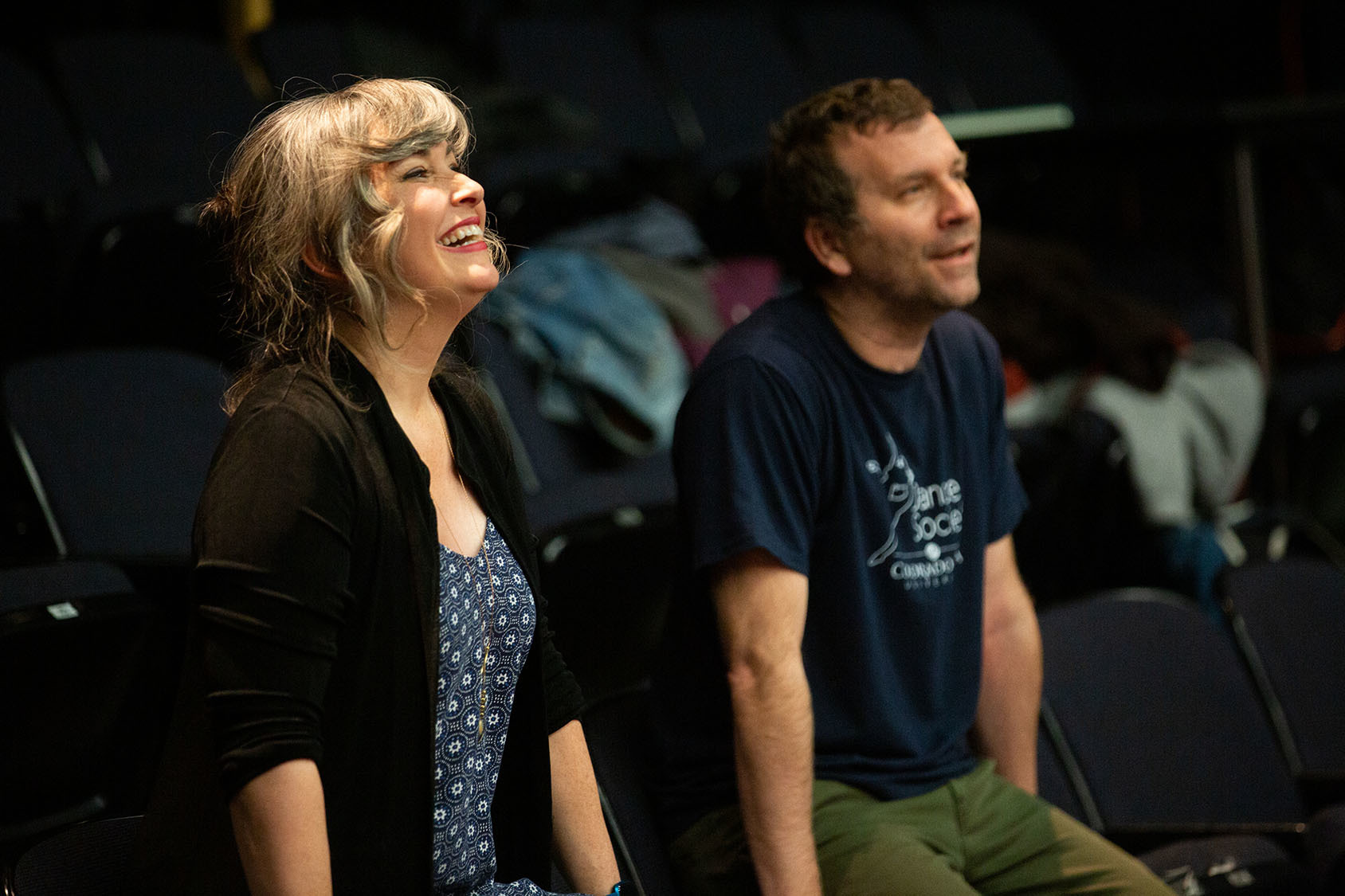 Alexandra Harbold with Daniel Charon | Photo Todd Collins
The cast has also had the opportunity to collaborate with Daniel Charon, Artistic Director of Ririe-Woodbury Dance Company, on moments that call for motion. "I asked Daniel if he was willing to come play. Beyond an amazing choreographer he is a gifted collaborator. He builds so beautifully on to what other people are making." For example, Charon and the cast worked on bringing grand, whirling movement to stage for an interaction with the god of wind, Aeolus.

Another important collaboration delivers the integral musical component. Assistant Professor Jennifer Jackson composed and designed a bed of sound that grounds a mythical world.

What is perhaps most challenging about tackling Homer's epic in the University setting is the time crunch of the semester. "I wish I had the gift of expanding time," Harbold said. "We want to find the time to layer and detail, but you have to do quite a lot of foundational work before you get to the place with the small brush."

Come adventure with the Department of Theatre as they present this timeless tale of trials, enduring love and long-awaited homecomings.

You can catch "The Odyssey" in the Babcock Theatre from Nov 8 through the 17, with a special talkback with the cast and production team on Friday, Nov. 15.
Nov 8, 9, 13-15, and 17, 2019 | 7:30pm
Nov 9, 10 and 17, 2019 | 2:00pm
Get tickets here. Free for University of Utah students through ArtsPass!