By Emeri Fetzer

Artist Jim Michie may have 65-70 original paintings in his collection, but he has 8,000 more in his imagination, waiting to be brought to fruition.

"The world is so full of beauty," Michie said. From colorful landscapes and faces of beloved family members, to a particularly striking Australian shepherd catching the light just right, the ordinary images filling Michie's days are what he finds most extraordinary, and is compelled to capture on canvas.

Next week in the Alvin Gittins Gallery, the Department of Art & Art History will open an exhibit of over 30 Michie originals. Paintings, sketches, and watercolors that typically hang in the homes of his children and grandchildren will be on display to showcase a body of work in development since 1982.

A graduate of Yale University in Economics and Stanford Business School, Michie cultivated a creative practice as a relaxing avocation alongside a bustling career in the real estate business.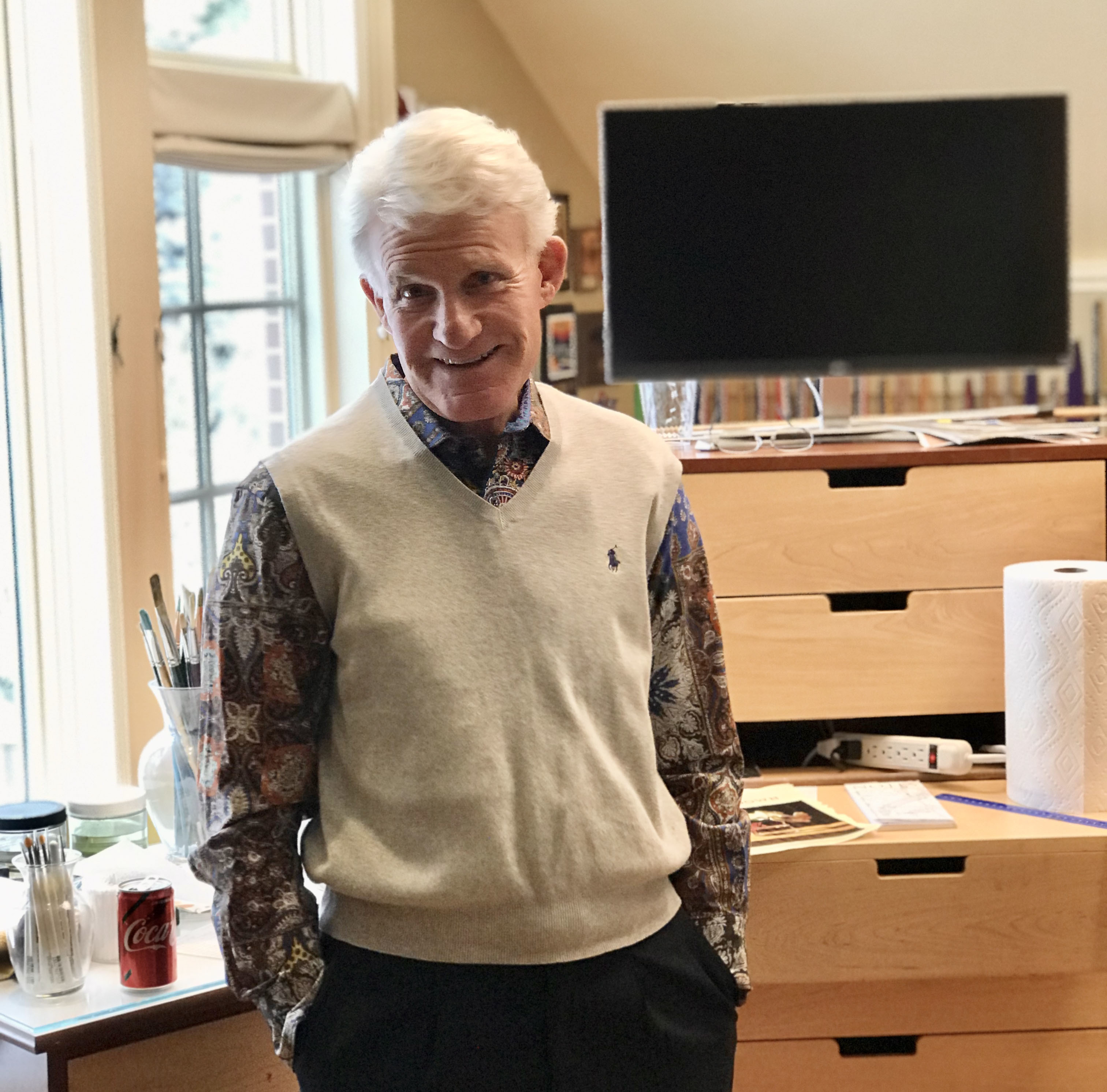 "I had five kids, a church calling, and of course business was the main thing," Michie explained. "But when I could, I would doodle, draw or do a painting."

In the moments he sets aside to paint, Michie experiences not only a sense of calm, but also the extreme focus that artists for ages have chased and harnessed: the "zone," the creative flow, that mysterious state of full presence of mind, free from distraction.

"You're painting along and you just don't want to quit, because it's like a puzzle you are putting together. Pretty soon it's 2 AM and you realize you have a business meeting in 6 hours" Michie said.

Entirely self-taught through instructional books drawing and painting, Michie has honed his artistic skill through consistent practice and detailed observation of other visual artists he admires. Specifically, in portraits, he is driven to find accuracy in color, shapes and line.

"If it doesn't look like the subject, it just isn't cutting it," he confessed. "You've got to get the cheek right, you've got to get the eye color right…I've learned to do the eyes last because they can be so tricky."

And to the question of when a work is complete, he simply said, "you have to quit when you know there are some mistakes in there, and when you are tired of it for sure."

Because art has meant so much to Jim personally, he is inspired to support those with a similar devotion. In addition to his continuous philanthropic efforts in the School of Music, Michie has recently established an endowed scholarship in the Department of Art & Art History for emerging practitioners. "It excites me that there are artists there that may need a boost. I had financial help in college and very much appreciated it. I am devoted to the arts. It's fun to know and to see students go! They are so passionate about what they do. We need that in our culture."

And "see students go" Jim certainly will. Being a life-long real estate developer, Michie understands the value of creating spaces for impactful work and the longevity of sustaining large projects. The James R. and Nanette S. Michie Foundation has pledged financial support for a new named reception space in the continuing capital campaign efforts of the College of Fine Arts.

Congratulations to Eva Rauf and Diego Torres, 2019 recipients of the James R. and Nanette S. Michie Endowed Scholarship in Art & Art History!

Come and visit the Jim Michie Exhibition
November 14 – 22, 2019
Alvin Gittins Gallery