By Emeri Fetzer

Uplift Aersopace is taking art to new heights, literally.

The undertaking: paint commissioned artwork on the exterior of a Blue Origin New Shepard spacecraft, which will make the journey into space and back home. A unique collaboration between the fine arts and sciences, the project will reveal how art can evolve when exposed to the atmosphere's harsh conditions, and — the team hopes — open doors to a whole new platform for artists and art lovers.

Josh Hanes, founder of Uplift Aerospace and alumnus of the University of Utah College of Science in Physics & Astronomy, is fueled by a strong creative streak, and a passion for innovation.

"I have always been incredibly inspired by space. Actually when I was at the U of U, I started a club for space entrepreneurship," Hanes said. "Space brings out our creative nature, our inner child, our nature to ask questions, to innovate and create, and I think that's also a big part of art."

When it came to choosing who would paint, Hanes knew right away who he wanted. "The fact that this artwork is made not on a normal canvas but an actual spacecraft, with specialized paints, we wanted to be able to work with artists who were masters of their craft who had developed the skills and techniques to a level that is the best in the world. And that's Jeff Hein and Mark Pugh."

Jeff Hein, who studied painting and drawing in the University of Utah Department of Art & Art History, is a renowned painter called a "living Master" by the Art Renewal Center. Hein will work side-by-side on the commission with Mark Pugh, also an acclaimed surrealist painter.

"The chance to do something that's never been done before is always exciting for any artist," Hein said. "I like to think that Mark and I bring something unique to the table in that we have experience with experimentation. I think it's not uncommon for artists to stay on a very narrow path throughout their careers. I've been all over the map and experimenting with lots of different mediums and different things. This is an entirely new medium for me, but I'm hopeful that we're up to the task."

Artistry runs through every element of the project, blurring the typical definitions of what is creative and what is scientific. "Engineering in itself is an art form," Hanes said. "A lot of the time, we think of engineering as very cold and methodical. But I think most of what we do, even with different methodology and processes, is create. If anything, this is blurring the line between engineer and artist, and being able to create something really beautiful from that."

The team will use materials specifically designed and tested to endure the space mission. The paints Hein and Pugh will use are texturally very different from anything they've worked with before. "They almost have the thickness of watercolor paint but yet kind of a sticky consistency," Hein described.
"Space brings out our creative nature, our inner child, our nature to ask questions, to innovate and create, and I think that's also a big part of art."
Blue Origin, owned and led by Amazon.com founder Jeff Bezos and aerospace engineer Rob Meyerson, pioneered New Shepard spacecrafts as the first reusable suborbital rocket systems designed to take astronauts and research payloads into space. The specific trajectory of Uplift Aerospace's mission is yet to be determined, but will be aligned with Blue Origin's ongoing research.

"The artwork will go through every phase of launch, from the ground to mach speeds in the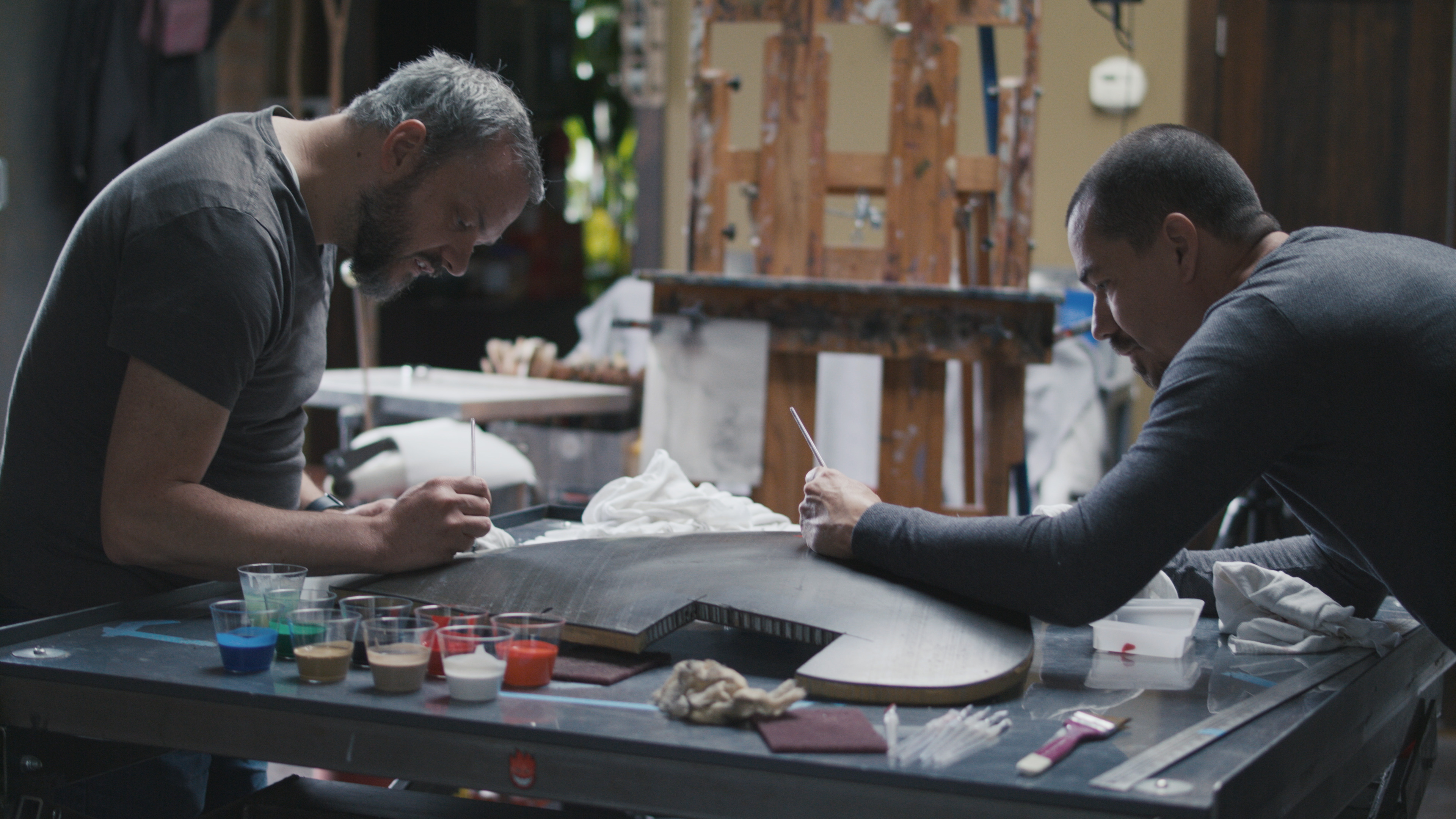 atmosphere, to the vacuum of space and then re-entry. It will have to be able to withstand that. We want the artwork to be able to participate in the journey but maintain its integrity," Hanes said. To better understand the results, the team is working with curators to analyze the paint before and after the journey.

The lucky individuals that commission the artwork will not only own the finished piece (three sections of rocket exterior) but will also have a hand in its creation. "We would like whoever commissions the artwork to be able to have some creative role in it. Our focus really is to be able to pioneer the methods for future artists to be able to use this as a platform," Hanes said.

Because of the limited color palette, the specialized materials, and the journey itself, the finished work will be one-of-a-kind in any collection. "Whoever collects this painting is going to have something that doesn't look like our oil paintings. Our aesthetic taste will be carried over into it, but it'll have its own character and be unique from anything else that you could buy," Hein explained. "It shouldn't look like an oil painting. This is a totally different medium, right? Even though it has its challenges, sometimes it's the challenges of the medium that makes an artwork unique and interesting."

Follow developments on the project at upliftaerospace.com.