The College of Fine Arts is delighted to present the 2023 Outstanding Seniors from each of our five academic units.

These individuals were nominated for their academic achievements, artistic and scholarly accomplishments, and ongoing commitment to their craft. We are inspired by each of them, and look forward to witnessing the ways they continue to contribute to our community. We are honored to have shared their time here as students.

Congratulations!

Avery Greig
Department of Art & Art History
Pronouns: She/They
Majored in: Art History Major with a Diversity Certificate and a Business Minor
Hometown: I was born in Detroit, Michigan but moved to Utah from Boston, Massachusetts which I consider my second home.
Three words that describe you: Driven, Visionary, and Open-Minded
Most impactful class or professor: My most impactful professor at the U has been Professor Sarah Hollenberg! She is a wonderful professor who urges her students to think about varying perspectives — which has greatly impacted the way I think as an undergraduate student. I really enjoyed working with her when I was the President of the Art History Student Association (AHSA), of which she was our faculty advisor and truly helped me reach for cool opportunities and get out of my comfort zone. I loved taking her Museum Practices course in which every member of the class was assigned a museum job position and as a class we created our own museum together. I will never forget that.
A CFA moment you'll never forget: I will never forget taking group trips to the UMFA with the Art History Student Association!
What inspires you: Inspiration surrounds me constantly! I find little bits of inspiration all around me. I am greatly inspired by visual art and music — if you see me walking on campus, I always have my earbuds in and my head in the sky, looking at trees and plants or the shapes of the buildings on campus. Music and visual art really inspire me in my writing in the Utah Daily Chronicle, often when I find myself stuck I will turn to various forms of art media to get my writing flow back. My brilliant mother, strong father, and hard-working brother all inspire me and support me to reach my goals each and everyday, and I am inspired greatly by my beautiful and creative friends who push me to reach for big and bright things.
Summary of major accomplishments on or off campus: I was a pre-professional ballerina at the Boston Ballet when I was in high school, President of the Art History Student Association at the U and Arts Desk Editor at the Daily Utah Chronicle. In my time as AHSA president, I co-organized a successful three part professional lecture series centering on underrepresented voices in the art world, bringing in professionals to talk to university students. Last year, I was awarded 1st Place for Best Arts Writing for the University of Utah's Student Media which was a big honor. I also held an internship with the Utah State Department of Arts and Museums where I worked directly with the state art archive. I am extremely honored to be named this year's Art and Art History Department Outstanding Senior.
Hopes and plans for the coming year: This coming year, I am hoping to transition into an archival-based job position while I start planning for graduate school! I am planning on pursuing a Masters in Library Sciences graduate degree. Additionally, I plan to travel around this summer, including a trip back home to Boston and to Florence, Italy!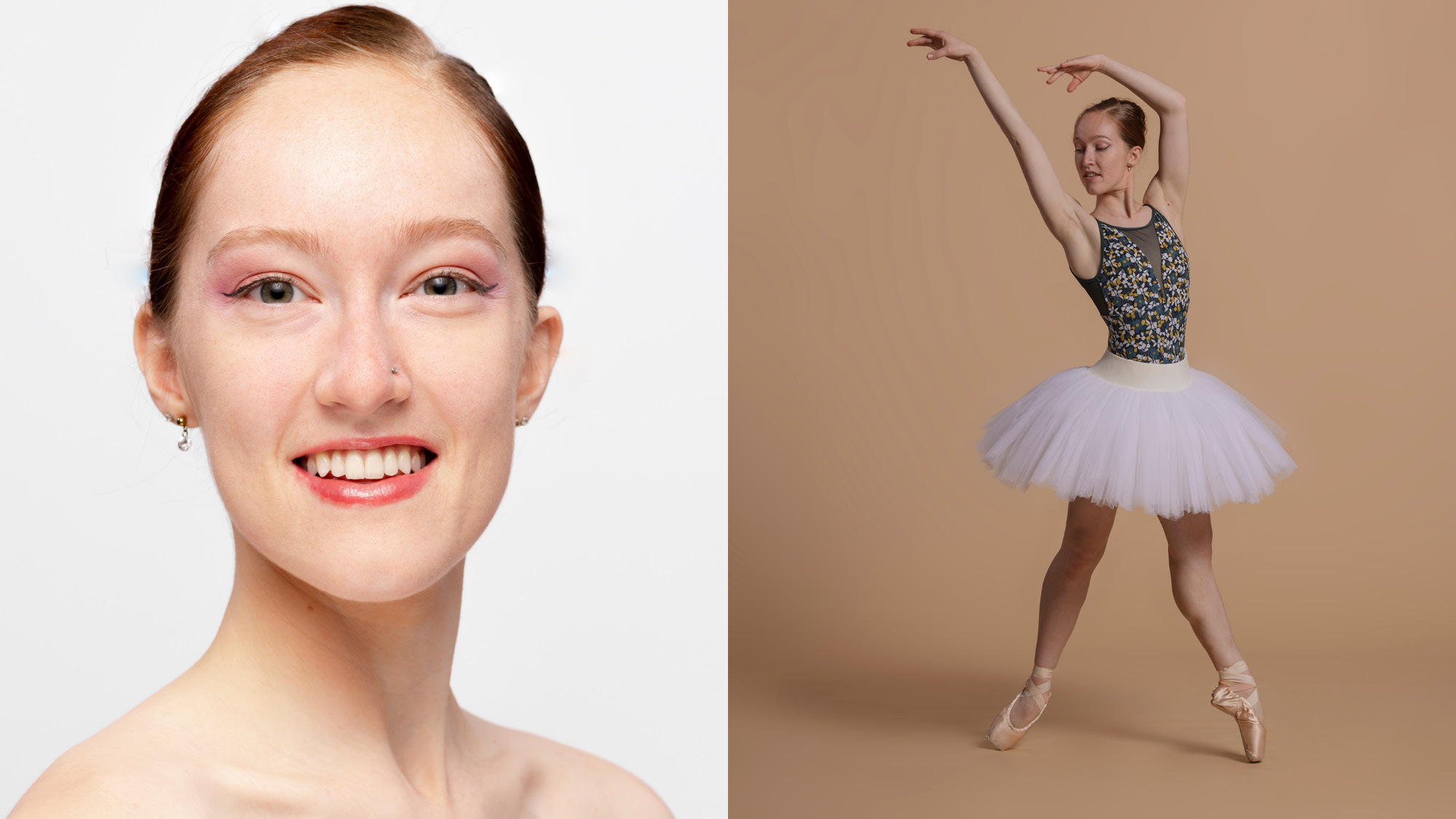 Megan Lynch
School of Dance
Pronouns: She/Her
Majored in: Ballet BFA, History BA
Hometown: Winona, Minnesota
Three words that describe you: Dedicated, passionate, optimistic
Most impactful class or professor: It is difficult to narrow it down to one person, but I find that Pablo Piantino is woven throughout my entire four years in the School of Dance. He has simultaneously challenged and encouraged me to be my most authentic self, and exude excellence both on and off stage, inside and outside the classroom. I also find that Christopher Alloways-Ramsey, Justine Sheedy-Kramer, and Maggie Tesch, who have advocated for me and mentored me over the years are also essential to my success.
A CFA moment you'll never forget: During my first performance with the School of Dance, the entire cast I was performing with got a card and signed it to encourage me. It taught me the importance of creating a community that cares and supports each other, and how a small act of kindness and encouragement can make such a large impact. I still have the card to this day and make a point to do similar acts for my peers.
What inspires you: I am inspired by kind and passionate people in any area of study, willing to share that passion with others.
Summary of major accomplishments on or off campus:
Merit Scholarship, Ballet Department
Service Scholarship, College of Fine Arts
Ungraduated Research Opportunity Program (UROP) scholar and grant recipient
Research Assistant, Professor ShawnaKim Lowey-Ball, History department
President of Character Dance Ensemble (2022-23), Vice President (2021-22), Member (2019-2023)
Vice President of Student Dance Exposure Committee (2021-2023)
Student Advisory Council (SAC) co-president, School of Dance, Ballet Department Representative
FAF grant council committee member
Performed in numerous mainstage performances with the School of Dance, including Kitri in "Don Quixote," Princess Florine in "Sleeping Beauty," and Alejandro Cerrudo's "Second To Last," as well as many other original works by faculty and guest artists.
Performed in, and choreographed for, peer-directed performances.
Studied during the summer months with the Joffrey Ballet, Kansas City Ballet School, Utah Ballet Summer Intensive, and International Summer Program in Incheon, South Korea
Hopes and plans for the coming year: Dance professionally in a ballet company, and continue to foster a supportive community, wherever I am.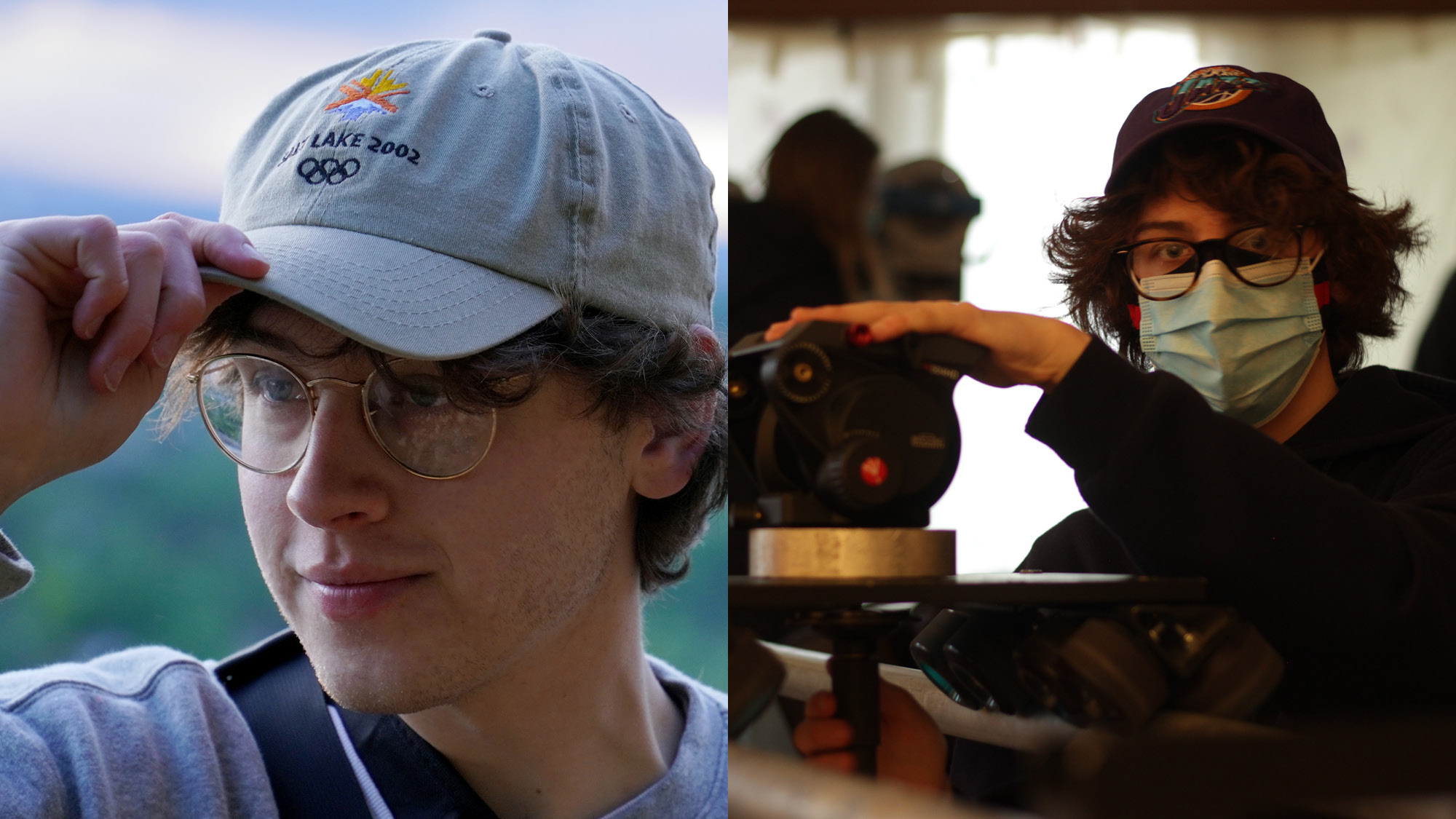 Cayden Turnbow
Department of Film & Media Arts
Pronouns: He/Him/His
Majored in: Film and Media Arts
Hometown: Salt Lake City, UT
Three words that describe you: Leader, Motivated, Creative
Most impactful class or professor: I've had the privilege of taking Paul Larsen's screenwriting class for the last couple of years and have learned so much about how to take and give criticism, how to create a compelling story with interesting characters, and how to maintain self-discipline when writing longer form scripts. Paul Larsen without a doubt has been one of the most impactful professors while I've been at the U and I'll be sad to say goodbye when I graduate.
A CFA moment you'll never forget: When Lee Isaac Chung visited campus I went to almost every single one of the events he attended and took scrupulous notes. It was his advice that inspired certain aspects of my capstone. He encouraged me to take risks and keep chasing my goals even when times get tough.
What inspires you: I find that it's the people closest to me that inspire me the most.
Summary of major accomplishments on or off campus: I co-founded the Film Production Club and as its president produced and co-directed a short film titled "My Baby" which received a distribution award at the 2022 Spring Showcase. "Toothbrush" is another film that I directed that premiered alongside "My Baby" last year. I've received an Epics award through ADTHING (an advertising agency for which I am the current Video Director) for a commercial I made for Tacos Don Rafa. I've had the privilege of being an RA for the Fine Arts Floor, and a resident of the Fine Arts House. As an Emerging Leaders Intern, I helped organize the 9th annual ArtsForce Networking Event and had multiple articles published in the Finer Points Blog. Last summer I had an internship with Blank Space, a rewarding experience supported by the Utah Film Commission. Shortly after I joined Slamdance as an intern and worked up to managing the online festival in 2023.
Hopes and plans for the coming year: I hope to be able to continue to create, in whatever aspect that may be, as well as find a job that will be a stepping stone for my career in the film industry.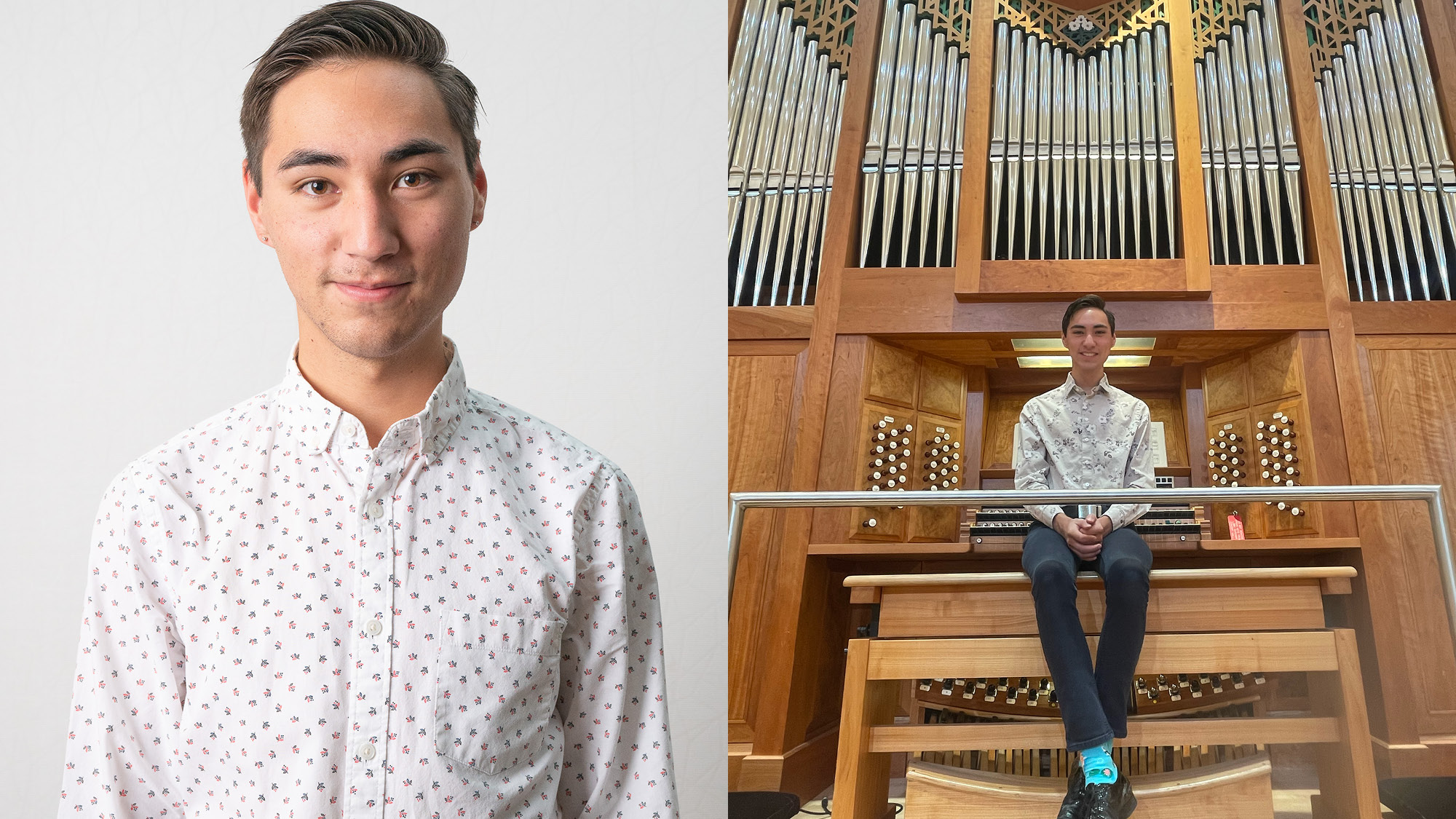 Samuel Judd-Kim
School of Music
Pronouns: He/They
Majored in: HBA in Music and HBS in Philosophy
Hometown: Orem, Utah
Three words that describe you: Tenacious, authentic, disruptor
Most impactful class or professor: If I have to choose just one, it would be Dr. Pamela Jones, for picking up on and nurturing my enthusiasm for learning (both before and during the pandemic), mentoring me on the harpsichord, and directing me toward so many amazing opportunities! However, I would also like to recognize Dr. Ken Udy and Dr. Haruhito Miyagi for their generous support and wisdom.
A CFA moment you'll never forget: Playing harpsichord continuo with the Utah Philharmonia on a few concerts; as a keyboardist, I always relish the chance to play with an orchestra. An honorable mention would be playing the Libby Gardner Concert Hall organ for the very first time.
What inspires you: All of the talented and visionary artists I've had the pleasure of working with; I'm incredibly lucky to have collaborated with so many driven musicians who motivate me to keep doing music.
Summary of major accomplishments on or off campus:
Two solo organ recitals at the Cathedral of the Madeleine (Salt Lake City) in 2020 and 2022.
Original senior honors thesis: "Queering the Pipe Organ," a musicology paper supervised by Dr. Haruhito Miyagi.
Many joyous collaborative performances on harpsichord and organ, with amazing flautists, harpists, strings, chamber groups, and orchestras.
With the College of Fine Arts advising team, assisted incoming Fine Arts students as a Create Success Intern
Helped found the University of Utah Asian Collective, which is working with the Office of EDI to create an Asian Cultural Center on campus and advocates for Asian and Asian-American communities on campus.
Created workshops on sexual violence prevention for queer students, students in Greek life at the U, and high school students, both as an intern at the Rape Recovery Center and as student staff at the McCluskey Center for Violence Prevention.
Hopes and plans for the coming year: Taking a gap year to explore how to apply the knowledge and skills I've learned in the School of Music in an impactful way in my communities. I hope to eventually attend graduate school and build on the research in queer musicology I engaged in for my honors thesis, while always keeping sight of the reasons I do music!

Pronouns: She/They
Majored in: Theatre, Performing Arts Design Program with emphasis in Set Design; minor in Japanese
Hometown: Yokota Air Base, Tokyo, Japan
Three words that describe you: Passionate, Detail-Oriented, Overachiever
Most impactful class or professor: Scenography Lab where I was so excited to assist in building the sets and I realized that I wanted to work in the design part of the theatre world.
A CFA moment you'll never forget: In scenography lab, I painted a mechanical snake to be used in our production of Men on Boats. That was when Halee offered me a work-study position, and how I could work directly in the shop.
What inspires you: The ability to create amazing things with amazing people.
Summary of major accomplishments on or off campus: Co-set designed the U's first virtual production in 2020; The Night Witches. I also set designed Storm Still in 2021, and my work was featured in the CFA gala. I was the Scenic Charge Artist for Naked Mole Rat Gets Dressed: The Rock Experience in 2021, and Liminal in 2022. I finished my college career with my set design of the new musical; In Pieces. I have also done some volunteer work off campus for the Utah Pride Festival.
Hopes and plans for the coming year: I plan to continue to work in theatre here in Salt Lake, and hope to work full-time as a theatre technician.