The College of Fine Arts is delighted to present the 2023 Outstanding Undergraduate Researcher award to Lauren Carn from the Department of Theatre.
In 2015, The Office of Undergraduate Research established the Outstanding Undergraduate Researcher Award to recognize an outstanding undergraduate researcher from each college. Faculty mentors are invited to nominate students, and awardees are selected by committee. The criteria for the Outstanding Undergraduate Researcher Award include: a record of sustained commitment to developing research skills and knowledge under the supervision of a faculty mentor, evidence of independent and critical thinking, active participation in research-related activities on campus, and positive contributions to the research culture of the department, college, and university.
Carn's research, "Improving Mental Health Through the Arts" is deeply informed by her role as Partner Liasion for Arts For Youth (A Community Partner Program through the Bennion Center) where she teaches a visual-arts based class for students in South Salt Lake in collaboration with Promise South Salt Lake and The Historic Scott School. Carn is also Director of Salt Lake class for Studio Kids, an after-school theatre program for children aged 5-12. She plans and teaches curriculum focused on beginner theatre concepts, creating personal connections with students and parents.
As Miss Draper 2022, Carn advocated for equal access to arts programs in the Draper area. She fundraised for and collaborated with the Hunstman Mental Health Institute as an ambassador and judge for their program Healing Out Loud , which invites high school and college students to create film PSAs that reduce mental health stigma.
With mentoring from Adjunct Professor Dr. Lynn Deboeck, she wrote "Consolation Prize," a one-act play that serves to foster conversations about the often taboo subject of mental health. Paired with questions designed to induce thoughtful conversations within high school classrooms by state educational standards, the script allows students to see themselves in the characters' lives and begin examining their own mental health in a new and safe way.
To make her research easily understandable for all audiences, Carn recently authored an original children's book, "Ollie Does NOT Love Science," collaborating with Maria Jensen (Theatre Teaching BFA '26) who illustrated the story.

As the only arts-based research chosen to present for the 2023 Research on Capitol Hill event, Carn presented to multiple legislators, advocating for further funding for the arts, specifically in public schools.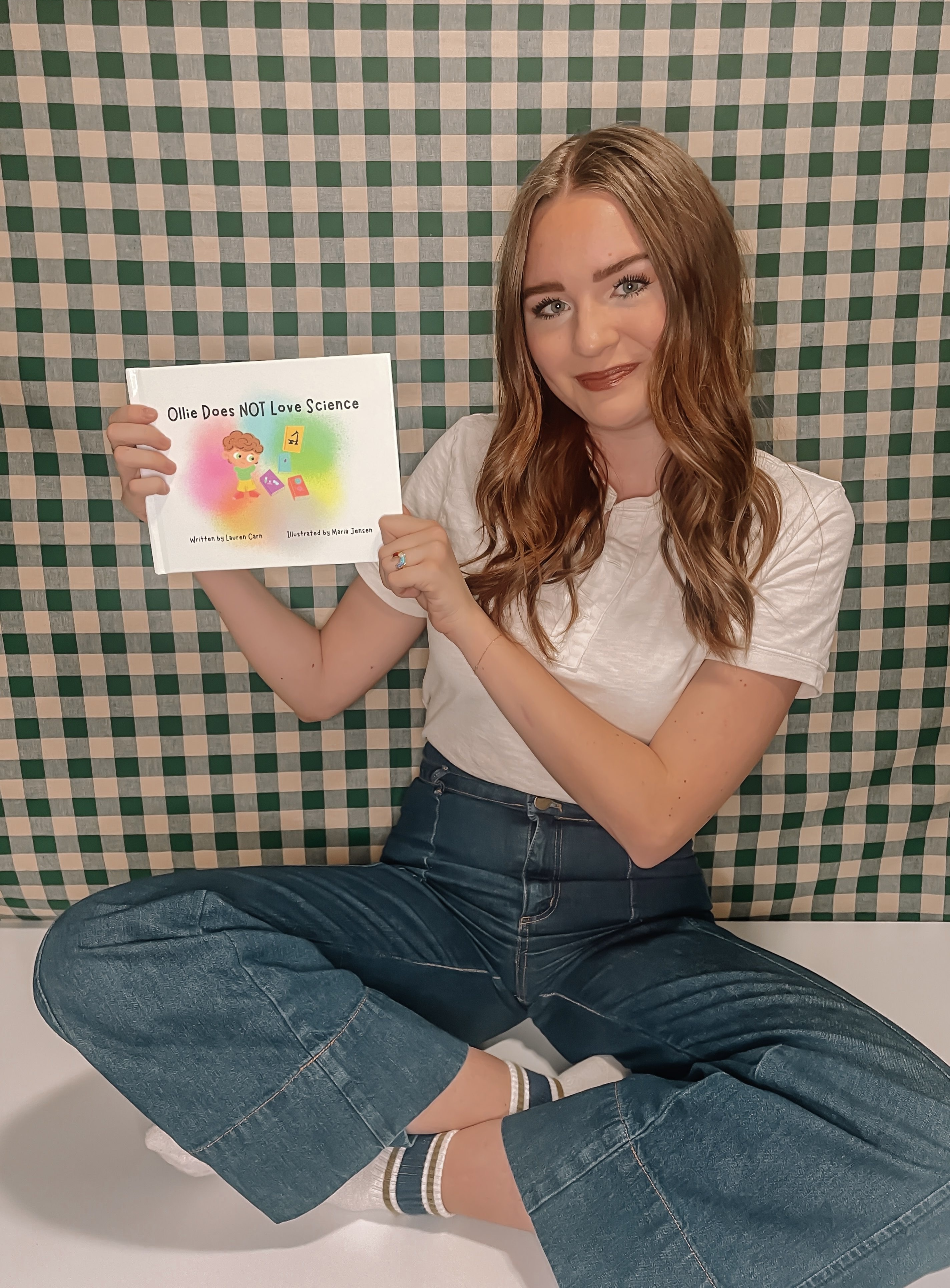 In her own words
Pronouns: She/Her/Hers
Majored in: Theatre Teaching BFA
Hometown: Draper, UT
Three words that describe you: Sincere, curious, and determined.
Most impactful class or professor: How could I pick just one?! I've been so grateful for both Dr. Lynn Deboeck's Script Analysis class, as well as Kelby McIntyre-Martinez's Classroom Management Forum. Both heavily influenced not only the content of my research but also how I conducted it. The contents of both of those classes are something I continuously am drawn back to, as I further my time in the CFA.
What inspires you: I'm always the most inspired by other artists. I love discovering new creative processes and often find that the foundation of my own work is "frankensteined" from theatre artists I'm watching at the time (right now it's Dave Malloy, Duncan Macmillan, and Marianne Elliott). Additionally, I love to pull themes from classical and choral music.
Summary of major accomplishments on or off campus: My most significant accomplishments include staging a reading of my play Consolation Prize, followed by an audience discussion on the arts and mental health (all thanks to Open Door Productions), visiting classrooms across the Salt Lake Valley to teach specific tools from theatre that students can use to improve their own mental health, sharing my research with Utah Legislature, and publishing my children's book with my incredible illustrator Maria Jensen (Theatre Teaching BFA '26).
Hopes and plans for the coming year: This coming year, I hope to finish writing my next play! I'd love to continue growing as a director and teacher (specifically working with more high school students). I'm also looking forward to diving into dramaturgical work and discovering how that intersects with my research on the mental health benefits of performing arts.