The College of Fine Arts is delighted to present the 2022 Outstanding Seniors from each of our five academic units. These individuals were nominated for their academic achievements, artistic and scholarly accomplishments, and ongoing commitment to their craft. We are inspired by each of them, and look forward to witnessing the ways they continue to contribute to our community. We are honored to have shared their time here as students.
Congratulations!


Alexandria Jensen
Department of Art & Art History
Pronouns: She/Her
Majored in: Art Teaching with K-12 Licensure
Hometown: Salt Lake City
Three words that describe you: Kind, Passionate, Creative
Most impactful class or professor: Beth Krensky really encouraged and inspired me throughout my time in the College of Fine Arts. The kindness and care that she radiates to all of her students is so important, and her passion for art education further reinforced my choice to be an art educator.
A CFA moment you'll never forget: I really loved all of my studio courses throughout my time at the CFA. I was able to learn about and explore so many different mediums and develop a newfound passion for ceramics. I am really grateful to all my professors who encouraged me!
What inspires you: My students inspire me. Seeing them make discoveries and breakthroughs when exploring different artistic processes always inspires me to create and explore with my own artwork.
Summary of major accomplishments on or off campus: I have accepted a position as the ceramics teacher at a school in the community I have been working with youth in for five years.

Fiona Thomas
School of Dance
Pronouns: she/her/hers
Majored in: BFA in Modern Dance, Minor in Entrepreneurship
Hometown: Seattle, WA
Three words that describe you: passionate, curious, tenderhearted
Most impactful class or professor: It feels impossible to choose the most impactful class or professor because each one has been such a tremendous part of my journey. I will say that Contemporary Views was the first class that helped me acknowledge my fears and accomplishments simultaneously. Understanding my worth and passion as an artist is the most valuable thing I have gained as a student.
A CFA moment you'll never forget: When I sang for Satu and Daniel's piece in the Fall Show, called 'remember everything that spring can bring (2020 Ballads)'
What inspires you: Being around others that care deeply about something, and knowing that art can make change.
Summary of major accomplishments on or off campus:
Volunteered with Healing in Motion Dance in 2018 and 2019
Taught creative dance to youth at the Utah Refugee Center at the Meadowbrook Campus site in 2019 and 2020
During Covid, Fiona was based in Seattle and taught a variety of classes remotely at All That Dance and at Olympic Hills, a local elementary school
Fiona has been a part of faculty works with Eric Handman and Daniel Clifton as well as Graduate Thesis works with Alexandra Barbier and Jessica Boone"
Created a collaborative work with Lia Wong to be premiered at the Spring Student Concert in February of 2020
Fiona has been in numerous works by fellow peers and classmates in Senior shows, Student Concerts, and Graduate shows
Served on student concert committee in 2020 and 2021
Choreographed and performed a solo this spring that her and Daniel Clifton co-created the music for, titled 'To wonder is to live. And I am the wolf'
This semester, Fiona is interning with Heartland, a collective directed by Molly Heller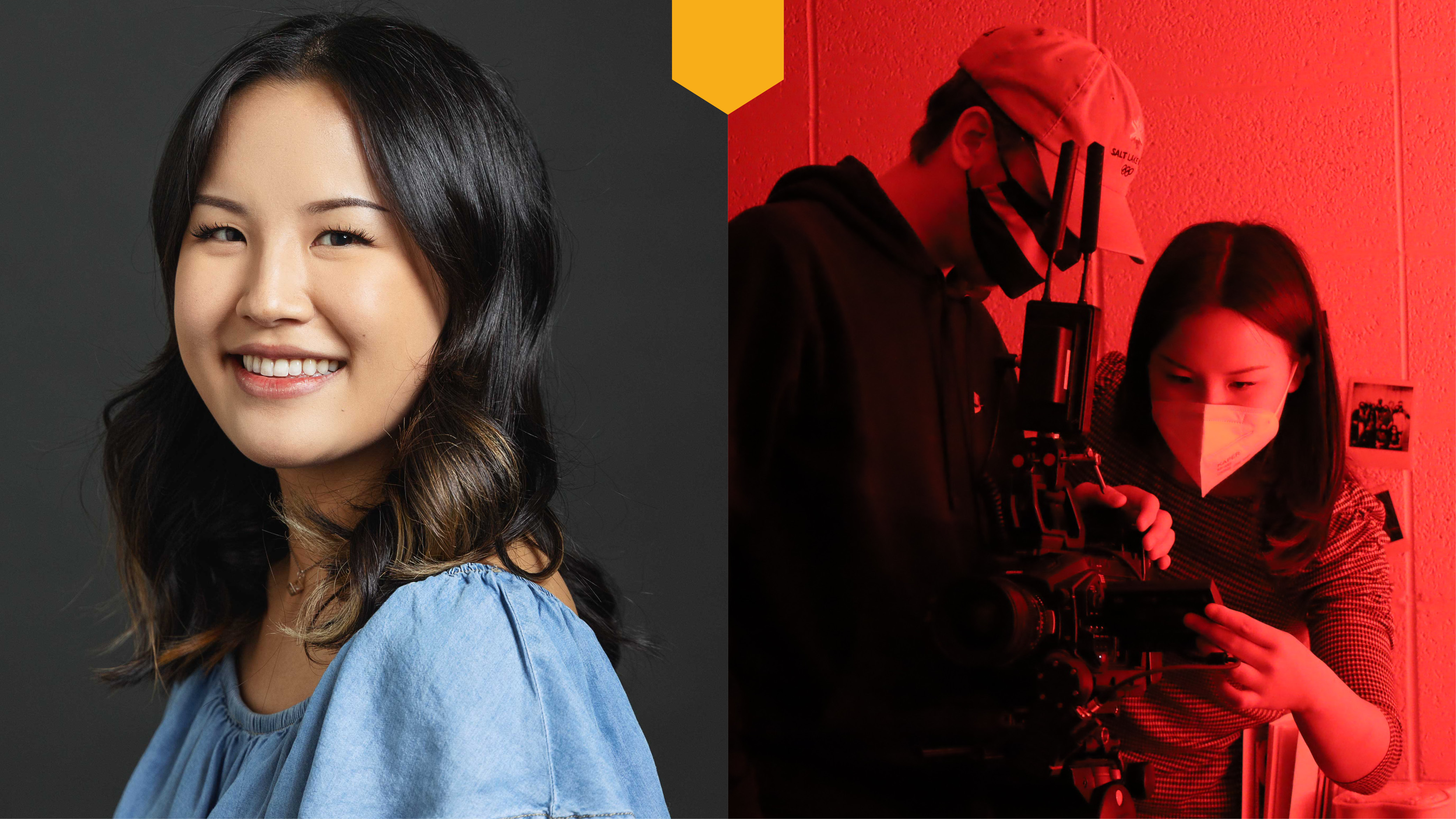 Yein Ji
Department of Film & Media Arts
Pronouns: She/Her/Hers
Majored in: Film & Media Arts BFA
Hometown: North Salt Lake
Three words that describe you: Dependable, Intuitive, Ambitious
Most impactful class or professor: Sonia & Miriam Albert-Sobrino. They are always full of energy and passion for filmmaking. They always make me laugh and they're incredibly knowledgeable. Everyone in the film department knows how amazing these women are. They inspire me to work harder and create beautiful art.
A CFA moment you'll never forget: The F&MAD Festival last spring. I got to watch and celebrate the films made by me and my talented friends.
What inspires you: My family. They've always been supportive of everything I do. They've starred in some of my film projects and are always excited for my next creation.
Summary of major accomplishments on or off-campus:
Vice President of Film Production Club
2021 Queer Spectra Arts Festival Intern
2 Semesters of Undergraduate Research
Pretty Girl film published in Undergraduate Literary Magazine
Cheers films showcased at Utah Arts Festival
Helped create 34 films
Directed 8 films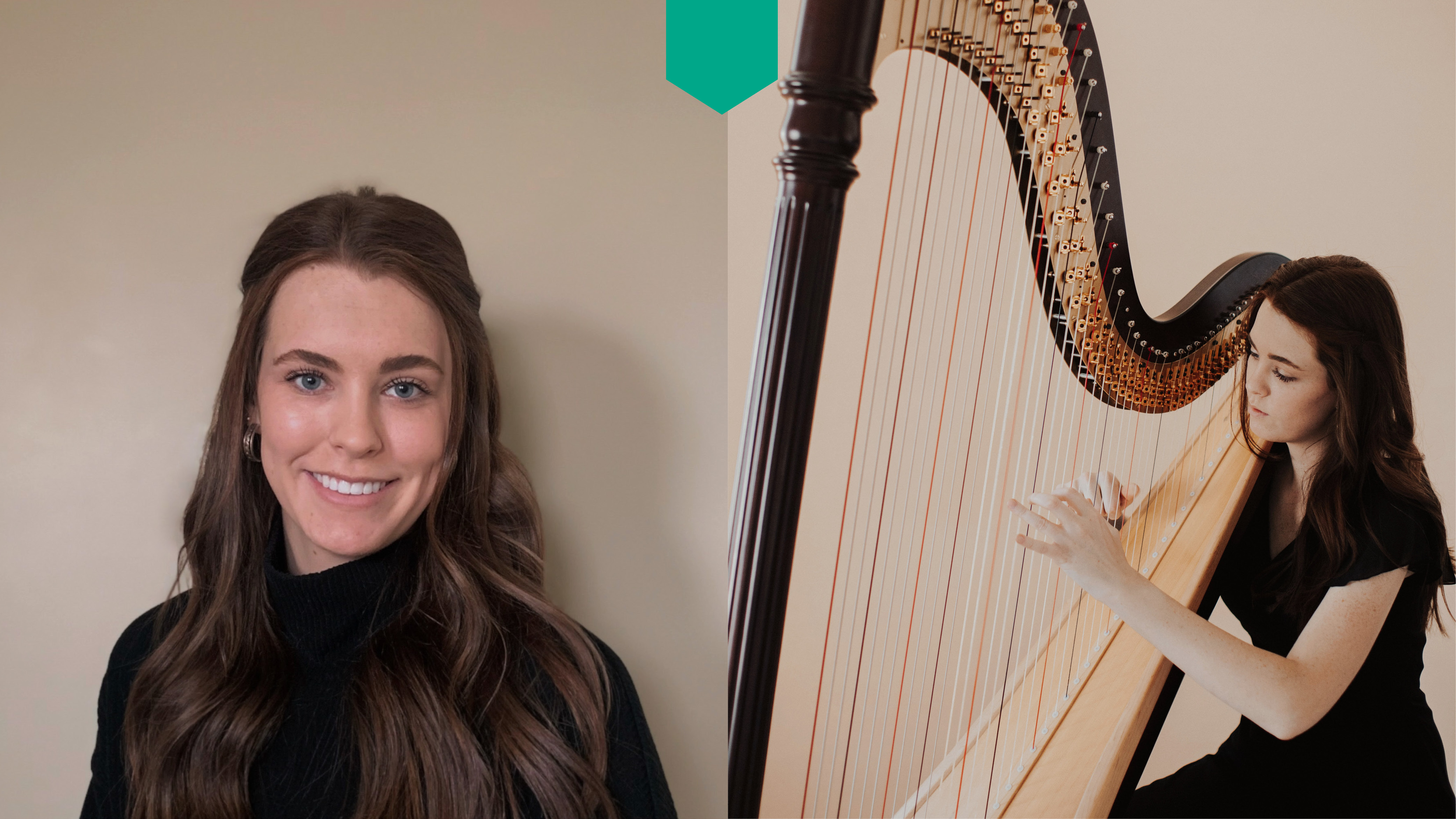 Merinda Christensen
School of Music
Pronouns: she/her/hers
Majored in: Instrumental Performance - Harp
Hometown: West Bountiful, UT
Three words that describe you: Outgoing, Ambitious, Compassionate
Most impactful class or professor: Dr. Cathy Clayton. Cathy has been my private harp instructor over the last 4 years and welcomed me with open arms when I made my transfer from the University of Arizona to Utah. She has always been so supportive as I have found my career path and I'm grateful for the time I've been able to spend studying under her while here at the U.
A CFA moment you'll never forget: I had the most amazing opportunity to be an Emerging Leaders Intern for ArtsForce in the CFA that has really prepared and paved a path for me as I continue on with my career after graduation. The friendships and connections made while a part of ArtsForce is something I will always cherish after leaving the College of Fine Arts.
What inspires you: I'm inspired by people that are passionate about what they do and work hard to accomplish their goals.
Summary of major accomplishments on or off campus:
President for the School of Music Harp Ensemble: Harps at the U of U 2019 - 2022
ArtsForce intern for the CFA 2020 - 2021
Awarded Internship of the Year with ArtsForce from the Career and Professional Development Center 2021
First recipient of the Music Entrepreneurship Certificate from the University of Utah School of Music 2022
Marketing and Communications intern for UtahPresents at Kingsbury Hall 2021 - 2022
Event Chair and summer intern for Women's Artistic Leadership Initiative 2020 - 2021
Crimson Mentor for transfer students at the University of Utah 2020 - 2021
Carmen Morton Christensen scholarship recipient 2018 - 2022
Program Assistant for THE BLOCKS: organization under the Downtown Alliance and SLC Chamber of Commerce, offered through my internship with ArtsForce
Director of Development for Opera Mississippi, offered through connections made while completing the Music Entrepreneurship Certificate

Danny Borba
Department of Theatre​​

Pronouns: he/him/el
Majored in: Bachelor of Fine Arts, Emphasis: Actor Training Program; Minor: Ethnic Studies
Hometown: Orem, Ut
Three words that describe you: Respectful, Determined, Outgoing
Most impactful class or professor : This one is a hard one! So I am mentioning a couple of things:
Andra Harbold and her wisdom regarding directing has been something that continues to bring so much joy and light into my journey as an artist and a human.
Robert Scott Smith always pushes me to be better and innovate with the art.
Nathan Brian's belief in me as a vocalist and an artist has helped me push through tough times.
Jerry Gardner has brought me peace and inspiration through Butoh and through my interactions with him.
Sarah Shippobotham amazes me continuously with the knowledge she imparts through Shakespeare or Dialects or text work.
All of these professors and mentors (and plenty more) have pushed me to better, while also believed in me as an individual, and have encouraged me to make the theatre arts a place of inclusion and innovation. I will forever be grateful.
A CFA moment you'll never forget: My first ArtsBash, about 4 years ago. It was the first time performing as a U of U students, and also the first time seeing how wonderfully diverse and big the College is!
What inspires you: In a specific example, Viola Davis' journey as an artist and a human has always given comfort and inspiration. But I also want to think about my family and God. Their support and their own stories have been critical in my growth as an artist, but also as a human being. Without them, and I mean ALL of them, I would not be who I am today, or doing what I do.
Summary of major accomplishments on or off campus: Not going to lie, being a part of High School Musical: The Musical: The Series was pretty amazing, and being able to intern at Pioneer Theatre was a major goal accomplished, but one thing that stands out was being able to create a BIPOC community with my friends and establish that we belong here and aren't going anywhere has been a very important thing for me.