Looking for beautiful handmade gifts this holiday season? Look no further.

The Department of Art & Art History at the University of Utah hosts its Holiday Art Sale next week in the Gittins Gallery. From December 3 - 5, the sale will feature fine art prints, photographs & postcards, photo zines & buttons, paintings, drawings, ceramics and more, all made by student artists.

Students Natalie Cheatham (studying marketing & sculpture) and Nate Francis (studying photography & sculpture) are hard at work with their fellow Sculpture Club members in preparation for the sale. Particularly inspired by the prospects of an exciting year together, Sculpture Club recently received a FAF grant from the College of Fine Arts to travel to New York City this year to visit artist studios! With the guidance of faculty mentor Assistant Professor Kelsey Harrison, they decided as a club to craft handmade wooden spoons, jewelry, and holiday ornaments for this year's holiday sale.

Beyond giving students experience in pricing and marketing their art to the public, this is also a valuable opportunity to hone new skills and collaborate with students of other disciplines.

"The sale is fun because we are taking skills we've learned in class and making something we can sell," Cheatham explained. "We make lots of different things -- and it's less precious than most of our processes. We have also worked with Photo Club, Clay Club ... it gives us a chance to teach other students how to use new equipment."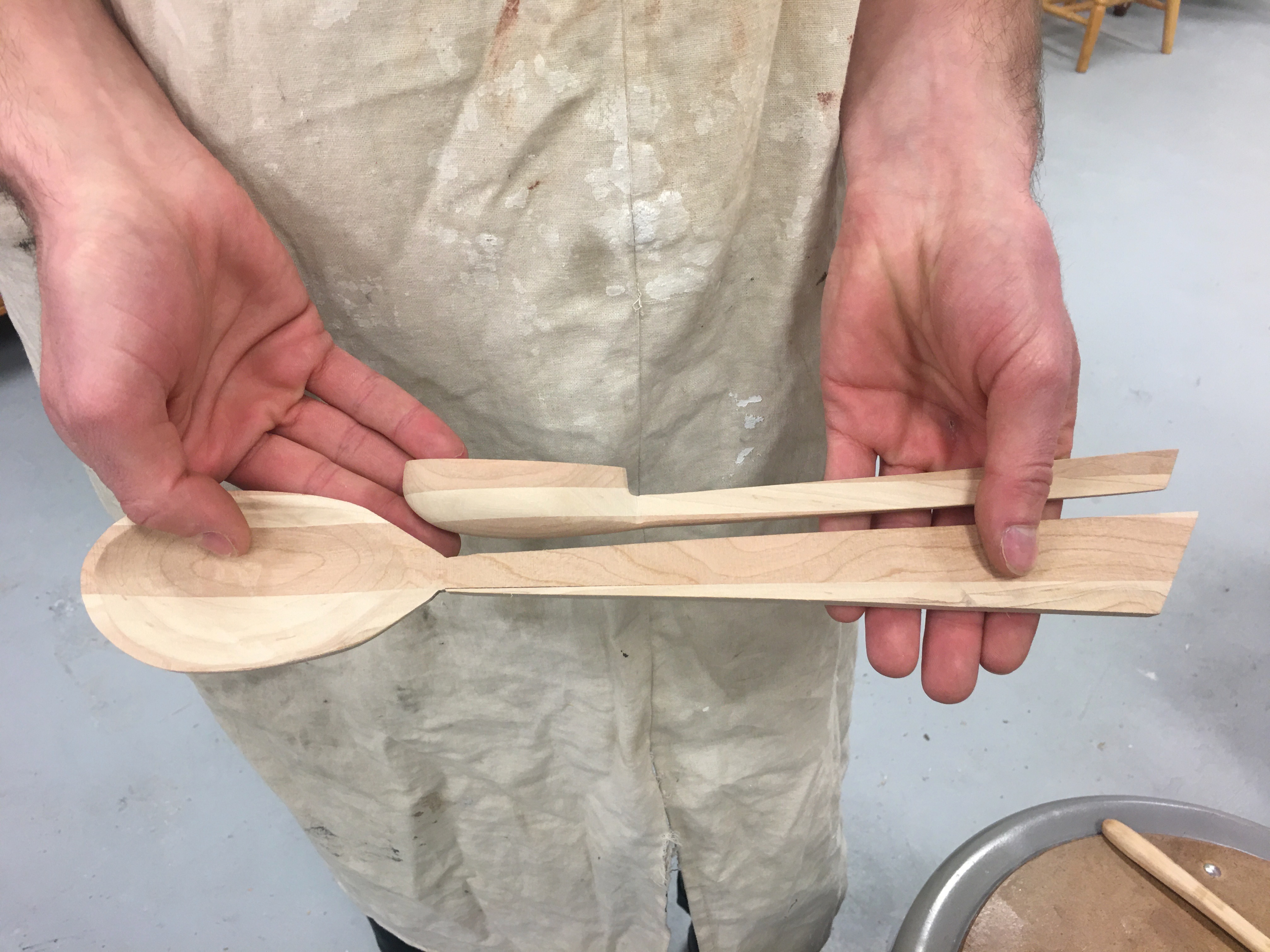 To create their desired sheens and textures for jewelry, they have worked on annealing, enameling and heat bending. To make plexiglass ornaments, they have learned how to master a laser cutter to transfer designs crafted in Adobe Illustrator. They have worked with specialized processes to make their handmade spoons both beautiful and durable.

"Some of the spoons are formed from one piece of wood, others are laminated, using several different types." Nate Francis explained. " We cut the shape with a band saw, then use sanding tools and angle grinders to carve out the center. Once it is done, we finish it with mineral oil." In one spoon Francis made, the different colors of come through in clear layers. "This one uses maple, cherry, and oak."
These gifts made by Sculpture Club are just some of the unique items you'll find at the Holiday Art Sale, and finishing your shopping is not the only upside: proceeds from the sale will directly support student clubs (like Sculpture Club!), travel to conferences, and workshops with visiting artists.

A win-win for all.

We'll see you there!
Tuesday, Dec. 3 from 10 - 7:30
Wednesday, Dec. 4 from 10 - 6
Thursday Dec. 5 from 10 - 6
Note: Cash and check are preferred but some areas will accept credit/debit cards.